This month's reading featured debuts to two excellent series, and a continuation of an old favourite.
1. BRUNO, CHIEF OF POLICE by Martin Walker (Fiction, Mystery, Series, France)

#1 Bruno series
This might be my favourite mystery series of all time. This, and subsequent books in the series, are set Dordogne, in southern France about 100 km (60 miles) from where my husband & I stayed on vacation in 2014. We did, indeed, take a couple of day trips into Bruno's territory, before I ever met Bruno.
Part of what I love about this series is the atmosphere – the life and ways of modern French villages, being bought out by wealthy foreigners (chiefly British), but valuing their heritage, including their cooking.
But Walker does more than describe the mouth-watering foods. He builds a likeable but all-too-human character in Bruno, and lays out a mystery that is intelligent and insightful and demonstrates the direct effect of history on the present.
Thank you to Cathy at Kittling:Books for the recommendation. The Kindle version is less than $1 on both Amazon.com & Amazon.ca. Sorry – it doesn't seem to be available on .uk or .au
If you have the least interest in France or in good mystery, you owe it to yourself to try at least this first book in the series.

5 stars

2. STILL LIFE by Louise Penny (Fiction, Mystery, Series, Canadian, Quebec)

#1 Three Pines series
This is the debut novel of the ultra-popular series featuring Chief Inspector Armand Gamache of the Sûreté du Québec, assigned to a murder in the rural village of Three Pines, south of Montreal. In it, we are introduced to those who, I've gathered, are continuing characters in the series.
Penny is skilful in bringing to life characters and defining their relationships. Consider what you learn about this couple, both individually and together, from this single paragraph.
"The outside world saw a tall, distinguished man with his disheveled wife, and wondered why. . . . Clara was his centre and all that was good and healthy and happy about him. When he looked at her he didn't see the wild, untameable hair, the billowing frocks, the Dollar-rama store horn-rimmed spectacles. No. He saw his safe harbor."
In addition, the mystery was clever. This is a well-done entry that spurred me on quickly to the second and third in the series.

4 stars
3. A DANGEROUS PLACE by Jacqueline Winspear (Fiction, Mystery, Series)

This, number eleven in the Maisie Dobbs series, has Maisie working undercover for British Intelligence in Gibraltar, on the eve of the Second World War
It's pretty obvious—since I'm on #11—that I really like this series, but it long ago became less about the mystery and more about Maisie and the people in her life. Sometimes she's maddening, but I am still entranced.

4 stars

4. BAD KARMA by Dwight Holing (Fiction, Mystery, PI, Series)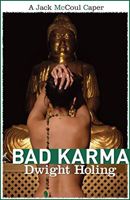 I think I found this free on Kindle and downloaded it, thinking it was the first in the series. It's actually second, and I think I would have gotten just that much more out of it if I'd read the first.
Amazon says: "San Francisco's favorite con artist turned private investigator Jack McCoul is trying to go legit by launching a high tech startup business. But then his past comes roaring back."
I don't know why I was surprised that this was well-edited and had a decent mystery, without a too-hard edge. The humour, I think, helped to soften it.
3½ stars
P.S. The links are affiliate links so I will receive a small percentage of any purchase you make after clicking through from this blog.