Last week I accompanied my husband while he made a business trip to St. John's Newfoundland. We had a wonderful time, in summer-like temps that seemed to descend for the week on most of Eastern Canada, and I may share some bits of our trip with you in future posts.
But right now I want to talk about fish & chips. Specifically, fish & chips in Newfoundland where you often find them served with dressing & gravy. When Bill told me about this after a previous visit to St. John's, I was skeptical. Nonetheless, last week I ventured to try this dish myself: not once, but twice in five days.
The second order was at the Duke of Duckworth, a downtown St. John's institution of sorts. It hides on McMurdo's Lane, a stairway that climbs the cliff between Water Street (below) and Duckworth Street. I'm afraid my attempt to photograph it doesn't do it justice. Fans of CBC's uber-popular Republic of Doyle may recognize the location.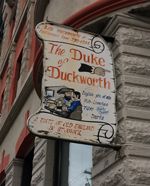 West Jet Magazine advises:

This popular downtown pub, just a few steps down McMurdo's Lane, [ . . .] is a star in the show (the Doyle brothers actually "own" it, and the distinctive orange office building above the bar is the exterior of the Doyle PI office).
But back to the food at hand. Doesn't this look terrific? It was!
The dressing was light and fluffy, and the gravy was the perfect topping.
It's important to note that this is 'dressing', not 'stuffing', the matter being one of terminology only, I believe. Newfoundland was the last province to join Canada – in 1949 – and retains a lot of its British roots, as my family did when I was growing up in 1950s and 1960s small-town southern Ontario, Canada. As far as I can remember, the only place I heard 'stuffing' then was in books, or in reference to plush toys.
The language of most mainland Canadians has been so strongly influenced by American culture and advertising over the last five decades that one seldom hears 'dressing' these days. I'm reminded how my Floridian cousin was highly amused to hear my teenage self refer to the 'chesterfield' in the living room. That's another Britishism of my youth that has been replaced in everyday speech, by the American 'couch' or 'sofa'.
But enough of my Heritage Minute and back to the food.
Although the dressing and gravy were wonderful, the absolutely best part of the Duke's fish & chips is the fish itself. You can see that there's some on my fork: as soon as I tasted that moist, white flesh I knew I had to blog about it and dragged out my phone to take this photo.
If you are lucky enough to get to Newfoundland in this lifetime, be sure to try the fish & chips & dressing & gravy. If you are in St. John's, get them at the Duke of Duckworth!
I'm linking up with Weekend Cooking.