Well, this is the month that I was supposed to go to Read-by-the-Sea in River John, Nova Scotia and hear readings by Maureen Jennings, Isabel Huggan and Linden MacIntyre, among other authors. As I've mentioned, I missed it.
All but one of the eight books I read this month were by Canadian authors; I've included the two mysteries at the end of this post.

1. ALL MY PUNY SORROWS by Miriam Toews (Fiction, Literary, Canadian)

Elfrieda (Elf) is a world-renowned pianist, beautiful, wealthy, in a happy marriage – and she wants to die. Her younger sister Yolandi (Yoli) who tells this story is broke, divorced and struggling as a single mother, and she desperately wants to save her sister from committing suicide, while she tries to keep her own life together.
This book, shortlisted for Canada's prestigious Giller Prize in 2014, looks at a serious subject in a compassionate & profound way – and along the way provides some humour from Yoli.
An outstanding effort. One of those books that sneaks up on you.

5 stars
2. STATION ELEVEN by Emily St. John Mandel (Fiction, Dystopian, Canadian)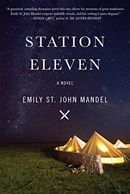 After a flu pandemic wipes out 99% of the world's population, and civilization as we know it, Kirsten Raymonde leaves Toronto and heads south. The story picks up twenty years later. Kirsten has joined a troupe of travelling actors and musicians, who have dedicated themselves to keeping classical music and theatre alive.
The story jumps back and forth between the time before and after "the collapse," and the narration rotates through various characters' points of view.
The tags 'post-apocalyptic' and 'dystopian' are usually enough to make me drop a book like a hot potato but this one got SO much buzz, I just had to try it. And I'm so glad I did. It's a reflection on what makes us human.

4½ stars
3. THE PUP FROM AWAY by Shaun Patterson, art by Christina Patterson (Picture Book, Canadian)
Look closely at the picture on the cover of the book – and then imagine the entire book illustrated by these charming clay sculptures augmented by other materials. They fairly leap off the page.
The owner of the pup Dukes has to go away for a year and takes Dukes to a friend in rural Prince Edward Island. It's a big change from his big, busy Ontario city and Dukes doesn't like it at first. Christina has asked him to stay though so he decides to obey her – and slowly becomes familiar with the delights of country life. When Christina returns, he wants to convince her to stay.
The title is apropos because on PEI, you are either an "Islander" or you are "From Away". Even if both your parents were Islanders and brought you "home" when you were two, if you were born "away", you'll always be 'from away'. It's a point of pride and principle for Islanders.
This book was created by husband and wife team Shaun & Christina Patterson, although from Shaun's bio one might assume that he did the lion's share. The Patterson themselves are 'from away' having moved from Barrie, Ontario to PEI over five years ago.
This book is a delight – to read, look at, and discuss with your child.

4½ stars
4. COOP – A Year of Poultry, Pigs and Parenting by Michael Perry (Nonfiction, Country Living)

Coop was the only non-Canadian book I read this month, but it arrived at the library for me so it went on the reading pile. I had ordered it because I'm always on the lookout for books about country living by people who have an empathy for city sensibilities, and I have a couple of other books by Michael Perry that have intrigued me in the past on my own bookshelves (unread yet).
One of my favourite excerpts (describing the house he grew up in New Auburn Wisconsin):
"Moving from the kitchen to the living room, you step up a four-inch riser; keep moving on the same plane around a central wall, and you will circle right back to the riser, having never stepped down."
This tickles me because we have the same sort of situation in the oldest part of our ("renovated") farmhouse – around that "central wall".
Perry infuses much humour while imparting great country living (and parenting) experiences in an easy-to-read narrative. Recommended.

4 stars
5. THE BISHOP'S MAN by Linden MacIntyre (Fiction, Literary, Canadian)

The Bishop's Man won the prestigious Giller Prize in 2009. In the story, Duncan MacAskill, a Catholic priest who has a genius touch for 'resolving' church scandals quickly and quietly is now assigned to an insignificant parish in Cape Breton, Nova Scotia. The effects of the cover-ups which MacAskill orchestrated are starting to haunt him, causing overdrinking and the decision to give his past journals to a reporter.
The book was published in the midst of the ongoing sexual abuse scandal case in the Antigonish Nova Scotia diocese, which eventually resulted in a $15 million settlement by the Catholic Church.
I found the back-and-forth-in-time format a little distracting but this is a sickening and powerful story.

4 stars
6. JACOB'S LANDING by Daphne Greer (Fiction, Middle-grade, Atlantic Canadian)

Twelve-year-old Jacob Mosher, son of an alcoholic mother and a recently deceased father, is sent from big city Ontario to rural Nova Scotia to spend the summer with aging grand-parents he just learned he had.
His grandparents are odd (to say the least), there are family secrets, and Jacob is suffering culture shock, in addition to navigating this last pre-teen year.
It's an eventful summer and a touching story of family affection.

4 stars
* * * * *

MYSTERIES
It seems the only reading disappointments I had this month were my mystery reads.
1. DOES YOUR MOTHER KNOW? By Maureen Jennings (Fiction, Mystery, Series, Canadian)
#1 Christine Morris
As I've mentioned before, Jennings, now a Canadian citizen, is the author of the Detective Murdoch mystery series on which the popular CBC television series is based.
Does Your Mother Know is the first in a series featuring Christine Morris, a forensic profiler with the Ontario Provincial Police (OPP) in Toronto, Canada. In this debut, Christine is on leave in Scotland, investigating the disappearance of her estranged mother, who has been involved in a "vehicular homicide".
Decent, but not outstanding or particularly memorable.

3½ stars
2. AS CHIMNEY SWEEPERS COME TO DUST by Alan Bradley (Fiction, Mystery, Series, Canadian)

I do so love thirteen-year-old Flavia deLuce, chemistry genius and amateur detective. But the quality of the mysteries in this series is unpredictable.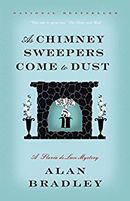 It's always been more about Flavia and her quirky family than the mysteries, but this instalment disturbingly convolutes that family story. It seemed to be as if the plot was being made up as the author went along, rather than being planned and knowing where it's going in the future.
I had great hopes for this book since Flavia was temporarily sent from her home in England to boarding school in Toronto, Canada, the author's (and my) home country. (Note: Bradley lives now in Malta.)
Sadly, I think this is the weakest of the series. It doesn't put me off Flavia, but if the next book is as weak I think we'll part ways. There's time in life for only so many mystery series – and so many, many out there to choose from.
3 stars
* * * * *
Did you know that the name Toews is generally pronounced taves? (Although I worked once with a young man whose family pronounced their name as toes. His name was Harry. True story.) Have you come across author names you were surprised to hear pronounced differently than you had thought they were?
P.S. The links are affiliate links so I will receive a small percentage of any purchase you make after clicking through from this blog.