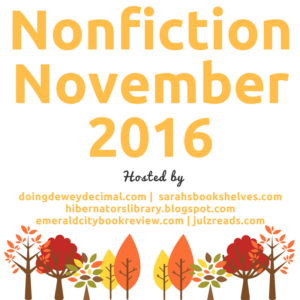 This week's link-up is hosted by Sarah at Sarah's Book Shelves. The prompt for this week's Nonfiction November entry is to make a pairing of a non-fiction book and a related novel.
The best match I can think of is Beginning French: Lessons from a Stone Farmhouse and the Bruno, Chief of Police series. Both are set in the same area of southern France. But I've talked about those books before.
So instead I'm going to present some of my reading from last year and suggest

Alan Turing, the Enigma Man by Nigel Cawthorne which supposedly was the book that the movie The Imitation Game was based on.
It's not the most interesting lifestory I've ever read but it's not bad, and it's short.
I'd follow that up with Blackout and All Clear by Connie Willis. Although these are two separate books, they're not really, being just one long story that had to be divided up for publishing. Both concern time travel from the year 2060 to WWII England – London, Kent, and Bletchfield Park among other locales.
Willis' time travel is complex but, in the end, it all makes sense. I did so enjoy both of these books.

Do you have interesting nonfiction/fiction pairings for me?
P.S. The links are affiliate links so I will receive a small percentage of any purchase you make after clicking through from this blog