A monthly mailing that I receive from Oxford County Library in Ontario put me onto a new-to-me, and excellent, series. Cathy at Kittling: Books has also recommended it.
1. OPEN SEASON by C.J. Box (Fiction, Mystery, Series)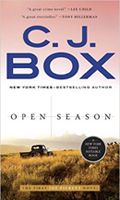 #1 in the Game Warden Joe Pickett series, set in Wyoming.
This was a wonderful introduction to a great new-to-me series, now at #18. It featured a likeable and believable protagonist and a solid mystery. There is 'good suspense', but it is not overwhelming as it seems to be in so many 'crime' novels these days.
Clearly, I have some catch-up reading to do.
4½ stars

2. THE LADY OF SORROWS (A Seven Deadly Sins Mystery) by Anne Zouroudi (Fiction, Mystery, Series)
This is the fourth in the Hermes Diaktoros series which opened with such a bang for me in January 2015.
Amazon says: "A painter is found dead at sea off the coast of a remote Greek island. The painter's work, an icon of the Virgin long famed for its miraculous powers, has just been uncovered as a fake. But has the painter died of natural causes or by a wrathful hand?"
The mystery in this episode just didn't come together for me, but I did still enjoy the outing with Hermes, and will continue with the series.
3½ stars
3. EXCEPT THE DYING by Maureen Jennings (Fiction, Mystery, Historical, Canadian, Series)
Although she is the author of two other mystery series, Jennings is probably best known as the author of this series featuring Detective Murdoch, set in nineteenth-century Toronto, Ontario. The books are the basis for the popular television series Murdoch Mysteries
Except the Dying is the first in that series and I read it to prepare for the summer's Read By the Sea event.
Years ago, I read the fourth installment, Let Loose the Dogs, and always meant to get back to it.
This debut wasn't as good as I remember #4 being, but it held its own. For certain, I'll try another.
3½ stars
4. COGNAC CONSPIRACIES by Jean-Pierre Alaux with Noël Balen (Fiction, Mystery, French, Translated [by Sally Pane], Series)


This is the fifth installment in the Winemaker Detective series featuring (fictional) renowned wine expert Benjamin Cooker, set in France. The heirs to one of the oldest Cognac estates in France call in Cooker when they face a hostile takeover by foreign investors.
There is a passable mystery, but the appeal of the series is the wine and the setting, and would be particularly interesting to oenophiles, or Francophiles with an interest in wine-making.
I suspect that each entry in this series stands well alone.
I received a complimentary ecopy of Cognac Conspiracies from the publisher. This did not affect my review.
3 stars
5. A FINE SUMMER'S DAY by Charles Todd (Fiction, Mystery, Historical, Series)

FantasticFiction.com lists this as #17 in the Inspector Ian Rutledge series; I have notated it as #.5 – that is, a chronological prequel to the series stellar debut A Test of Wills.

This entry takes the reader to Rutledge's last civilian case before WWI, and gives us a glimpse of the Inspector's personal life as well.

But I continue to be disappointed with subsequent entries in this series.

3 stars

It was a so-so month for mysteries, but made worthwhile for me with the discovery of the Joe Pickett series. Does anything appeal to you?

P.S. The links are affiliate links so I will receive a small percentage of any purchase you make after clicking through from this blog.

7 Comments to