Top Ten Tuesday is a weekly linkup of book bloggers hosted by The Broke and The Bookish!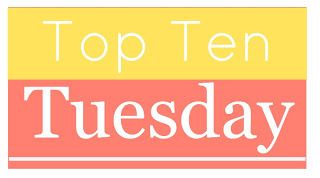 I want to make this a quick list that won't require extra photos, nor a lot of your time to read.

1. Privacy (in a physical sense). Folks will want to know who your grandfather was, where you're from, why you're here and lots, lots more. But most of them "don't mean nothin' by it". It's just the country way of knowing people. And they leave you be to go out on the deck in your robe (or less!)
2. Quiet – You're usually far enough away from your neighbours that the noises you hear are the spring peepers, summer crickets, autumn leaves, and winter wind. Much nicer than someone else's stereo on full blast, sirens and horns, and squealing tires.
3. Friendliness — It might take you a while to be accepted in the country but while you're waiting you can pretty much know that everybody on Main Street will smile and say hello. It helps to try do things their way instead of showing off your city learnin'.
4. Traffic — There isn't any. Except during haying season when the farmers drive their tractors down the highway. Three cars behind one is a traffic jam. (The school buses here pull over and let you by.)
5. Clean Air — No traffic carbon monoxide, no factory particulates or smells. Country air smells green; here it sometimes also smells like the ocean.
6. Clotheslines — outlawed in lots of cities, but pretty much de rigeur in the country.
7. No Water or Sewer Bill — not that we waste water; it is a limited earth resource after all. And every few years we have to pay to get the septic tank pumped. But it still beats having that monthly bill.

8. Wildlife — Okay, the bear getting into the green bin was a little much, but I never tire of seeing deer in the yard, or catching a glimpse of a fox or a ferret crossing the road and disappearing into the woods. There's red squirrels, chipmunks, porcupines, muskrats and lots, lots more.
9. The View from My Window

10. House Accounts — at the pharmacy and the hardware store. Enough said.

To be fair, there are a few things that I miss about living in the city. I'll share them with you next Tuesday.