March 2015 was a great reading month with lots of Can Lit, Atlantic Canadian and otherwise.
I read only one mystery book, that by Agatha Christie and have just included it in this list.
1. UNDER THE KEEL by Michael Crummey (Poetry, Atlantic Canadian)

I have read all of Michael Crummey's prose, including River Thieves and Sweetland to which I gave 5 stars in September 2014.
But I had never read of his poetry, which is his first vocation.
The title of this book refers to the poem Fathom, and the lines that describe the wound on his dog's shaved shoulder:
like a line across a gunwale
as it rises on an easy swell,
new stitches like a row of knots tied
to sound fathoms under the keel.
I don't know how to comment on poetry but I do know that I loved these poems. I borrowed this from the library – and then bought myself a copy for my own shelf.
2. KICKING THE SKY by Anthony De Sa (Fiction, Literary, Canadian)

In Toronto Ontario, in 1977, 11-year-old shoeshine boy Manuel Jacques was abducted, sexually abused and murdered.
Through the eyes of fictional 11-year-old Antonio Rebelo, in a time when children took their bikes and played for hours in the alleys behind their homes—a freedom we have difficulty imagining now—this novel examines that horrible real-life news event.
It's heart-breaking and very human.
3. GRIST by Linda Little (Fiction, Historical, Atlantic Canadian)

I always enjoy reading Nova Scotia author Linda Little's books, not least because the settings are very local to me and familiar.
This, her third novel, is Little's first foray into historical fiction, but it is a setting with which she is very familiar, having served as a guide at the historical Balmoral Grist Mill on Nova Scotia's beautiful north shore for several years.
From Amazon:
"Penelope MacLaughlin marries a miller and gradually discovers he is not as she imagined. Nonetheless she remains determined to make the best of life at the lonely mill up the Gunn Brook as she struggles to build a home around her husband's eccentricities."
There's a strong female protagonist, and the setting and time details ring true.
4. AT THE WATER'S EDGE by Sara Gruen (Fiction, Historical)

I haven't seen much about this fifth (?) novel by Canadian author Gruen, perhaps because it's so different from her big hit Water for Elephants.
Although there have rumours of a 'monster' in Scotland's Loch Ness for centuries, in 1933-34 a couple of "out-of-the-pond" sightings and two photos purported to be of the monster stirred world-wide attention. At the Water's Edge is set on locale just after this 'discovery'.
Gruen evokes not only the Scotland of the time, but also high society in Manhattan. Very droll.
5. CATARACT CITY by Craig Davidson (Fiction, Contemporary, Suspense, Canadian)

A short-list nominee for Canada's 2013 Giller Prize, Cataract City is set in Niagara Falls Ontario, where the gorge into the Falls gives the city its nickname.
Owen and Duncan are childhood friends who've grown up in Niagara Falls. As adults, the two men end up at opposite ends of the law: Dunc gets in involved in cross-border cigarette smuggling and Owen is a police officer.
Although I'm not really a fan of suspense, this kept my interest throughout, perhaps because I'm personally familiar with the "Cataract City".
Notable quote: It boiled down to this: it's a lot harder to love than to hate. Harder to be there for those you love—to see them get older, get sick, be taken from you in sudden awful ways. Hate's dead simple. You can hate an utter stranger from a thousand miles away. It asks nothing of you. It eats you from the inside but it takes no effort or thought at all. (page 327)
6. THE MURDER OF ROGER ACKROYD by Agatha Christie (Fiction, Mystery, Vintage)

This is a classic whodunit of the 'Golden Age' of mysteries, and often held out as Christie's best work. Originally published in 1926, it is Hercule Poirot's fourth outing.
Blurb from Amazon: "Roger Ackroyd knew too much. He knew that the woman he loved had poisoned her brutal first husband. He suspected also that someone had been blackmailing her. Then, tragically, came the news that she had taken her own life with a drug overdose.
But the evening post brought Roger one last fatal scrap of information. Unfortunately, before he could finish reading the letter, he was stabbed to death."
Even though I thought it worth the read, it wasn't my favourite, nor was it particularly memorable.
7. THE BOOK WITH NO PICTURES by B.J. Novak (Fiction, Children's 'Picture')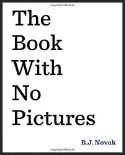 I'm always overly dramatic in my readings of picture books to kids. So the idea of a 'picture' book with no pictures, that allowed kids to imagine, and adults to dramatize, appealed to me.
Maybe I was in the wrong mood when I read it, but the narrative seemed overly wordy and over the top.
Points for the concept and the basic plot.

8. IMAGINARY LINE: Life on an Unfinished Border by Jacques Poitras (Nonfiction, Canadian)
The author recounts life in New Brunswick Canada living near the somewhat porous border with Maine USA.
Estcourt is unique: part of the community is in Québec, but the other part is at the northernmost tip of Maine, though cut off from the rest of the state by vast forests. There are no public American roads leading to Estcourt, which means that U.S. residents rely on Québec for access to electricity, telephone service, and road links to the outside world.
I've always thought, looking at a map of North America, that Maine should be part of Canada, sticking up the way it does well past the 49th parallel that forms most of the border across the continent. In Imaginary Line, Poitras recounts the history of land division that gave Maine to the USA and New Brunswick to Canada, and reveals the error of my thinking.
Why is this border "unfinished"? Because of a small island in the mouth of the Penobscot River that both countries claim, but neither will relinquish.
Very interesting – to both Canadians and Americans, I would think.
9. THE LANGUAGE OF FLOWERS by Vanessa Diffenbaugh (Fiction, Women's)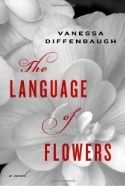 From Amazon:"The Victorian language of flowers was used to convey romantic expressions . . . But for Victoria Jones, it's been more useful in communicating mistrust and solitude. After a childhood spent in the foster-care system, she is unable to get close to anybody . . . Now eighteen and emancipated from the system with nowhere to go, Victoria realizes she has a gift for helping others through the flowers she chooses for them. But an unexpected encounter with a mysterious stranger has her questioning what's been missing in her life. And when she's forced to confront a painful secret from her past, she must decide whether it's worth risking everything for a second chance at happiness."
Bottom line: I shouldn't read women's fiction with happy endings, no matter how well-written.
10. THE MUSSEL FEAST by Birgit Vanderbeke and Jamie Bulloch (translator) (Fiction, Literary, Translated)
A mother and her two teen-aged children have fixed a 'mess of mussels' for dinner because it is their husband/father's favourite meal. They sit at the table, waiting. But he is late.
Written in 1989, just before the fall of the Berlin Wall, the father is meant to be an analogy of communism, the ultimate 'tyrannical father'. Although this has been highly touted, I found it rather ponderous.
11. SALTWATER COWBOYS by Dayle Furlong (Fiction, Atlantic Canadian)

I so wanted to love this novel and it was so promising at its beginning:

The inhabitants of a Newfoundland fishing village shut down by the collapse of the Atlantic fishing industry, move nearly en masse to Alberta to work in the oil field. Their families go with them, which is often not the case.

The part of the book set in Newfoundland rang true, as did the beginning of the time in Alberta but once the author had solidified the setting and, to some extent, the personalities, the plot sadly fell apart.

I received a free copy of this book from NetGalley. This did not affect my review.

3 stars

So there you have it: Can Lit in fiction both contemporary and historical, in nonfiction, and in poetry. Does anything appeal to you?

P.S. The links are affiliate links so I will receive a small percentage of any purchase you make after clicking through from this blog.

4 Comments to