This was the month I finally started several series that had been highly recommended and picked up some titles that fit various reading challenges I was unofficially participating in.
1. THE MESSENGER OF ATHENS by Anne Zouroudi (Fiction, Mystery, Series #1)
2. THE TAINT OF MIDAS by Anne Zouroudi (Fiction, Mystery, Series #2
3. THE DOCTOR OF THESSALY by Anne Zouroudi (Fiction, Mystery, Series #3)

I wasn't sure what to expect of my first meeting with Hermes Diaktoros, but I was eager to make his acquaintance so when Netgalley offered these first three in the series, I jumped.
The series is set in Greece at an undetermined time – but in very real settings that make little or no use of modern technology. That could be mid-20th century, or it could be present day in an isolated rural area that is not up to date.
To further confuse things, Hermes' methods are very old-fashioned and a little bit unorthodox, and there is the tiniest bit of magical realism.
This series has everything: a setting that the reader longs to be part of, a likeable inscrutable protagonist, and good mysteries. There are seven books in this series, each dealing with one of the traditional seven deadly sins.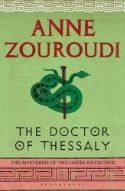 All of these books were excellent, although it is the story in the third one that has stayed with me three years later. There's always justice in Zouroudi's books although not always in the form you might expect.
I'm glad to be reminded to return to this series.
4½ stars each and every one
4. GREEN FOR DANGER by Christianna Brand (Fiction, Mystery, Vintage, WWII)
This was my second outing with Brand (the first in October 2014) and I found that Green for Danger certainly justified Brand's place in the pantheon of great Golden Age mystery authors.
This second outing of Inspector Cockrill is set in a rural English hospital during WWII. The mystery is extremely well and fairly clued and although I caught on before the reveal, it was just enough before that I wasn't frustrated by obviousness.
Tipped off by Nan from Letters from a Hill Farm, I found the movie version of Green for Danger on YouTube, and greatly enjoyed it. It was true to the book although, perhaps due to film quality, I think you'd get more out of it if you've read the book first.
Excellent – if you haven't read Brand, do start here.
4½ stars
5. TURNSTONE by Graham Hurley (Fiction, Police Procedural, Series)

This turned up in my library queue because it fulfilled a reading challenge that unfortunately, ran out the previous month. Still, it looked interesting enough to try.
"Turnstone is the 1st of Graham Hurley's Portsmouth based Faraday and Winter novels. Portsmouth is a city on the ropes, a poor, dirty but spirited city, with a soaring crime rate. And it is home for DI Joe Faraday." (Amazon)

Faraday is a crusty old coot but when eight-year-old Emma Maloney gathers the coins out of her bank, gets on a bus by herself, and walks into the Kingston Crescent Police Station hoping just maybe the police could find her dad, just like they'd found her bike that time, he sees a case worth taking.
Despite the ever-growing caseload of a city torn by violence, poverty, drug-dealing and petty crime, Faraday spares time and resources for an investigation unsupported by hard evidence and works loosely with Paul Winter, another member of the CID force, whose ambition and methods Faraday dislikes and distrusts, but who gets results.
The characters are well-drawn and not at all one-dimensional, and the plot stands up.
4 stars
6. THE TOMB OF ZEUS by Barbara Cleverly (Fiction, Mystery, Historical, Series)

In February 2014, I greatly enjoyed one of Cleverly's books from her Joe Sandilands series. Since then, I had heard positive things about her Laetitia "Letty" Talbot series, so I decided to give it a whirl, starting with the first in the series.
Set in 1928 Crete, it features aspiring archaeologist Letty, determined to succeed in a male-dominated field.
The mystery was solid, and kept me guessing, but I am so weary of Golden Age heroines with modern-day sensibilities. I may stick to Cleverley's other series.
4 stars
7. WHERE ANGELS FEAR TO TREAD by Stuart Palmer (Fiction, Mystery, Short Story)
I could call this the 'Case of the Disappearing Book". When I went looking for a cover image for this, I was unable to locate one by Stuart Palmer, despite there being nearly a dozen others by this title on Amazon. But this wasn't on Amazon, nor on my Kindle library, nor even in my iBooks app.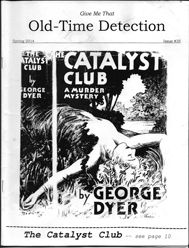 The mystery was solved when I looked at my original reading record and discovered that I had read this in a printed publication I receive. Give Me That Old-time Detection had reprinted it from a 1951 Ellery Queen Magazine. Old-Time Detection is a treasure trove of vintage stories and book reviews as well as current news from the field.
I'm assuming Where Angels Fear to Tread was classic and I liked it well enough, although I admit I don't remember anything about it.
3½ stars
8. A KILLER PLOT by Ellery Adams (Fiction, Mystery, Cozy, Series)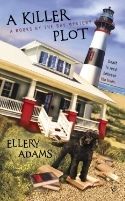 In the small coastal town of Oyster Bay, North Carolina, "Olivia Limoges is the subject of constant gossip. Ever since she came back to town-a return as mysterious as her departure-Olivia has kept to herself, her dog, and her unfinished novel."
But when townspeople start turning up dead with haiku poems on their bodies she, as a writer, becomes suspect and is drawn into solving the crimes. This is the first of the Books by the Bay series and is a solid, although not overly exciting, debut.
3½ stars
9. COVER OF SNOW by Jennie Milchman (Fiction, Suspense)
Nora Hamilton wakes one winter morning to find that her husband has hanged himself, leaving no note or explanation. When Nora starts asking questions, she is stonewalled at every turn.
I could recognize that this was a well-done suspense tale, although suspense isn't my favourite genre. I did guess the "villain" of the conspiracy early on and was quite frustrated at how Nora kept missing it.
3½ stars
10. CROSSING THE LINE by Frédérique Molay (Fiction, Crime, Translated, Series)
In this, the second in the Paris Homicide series, Paris Chief of Police Nico Sirsky is on a bizarre case. Dental students have discovered a message in the tooth of a severed head, warning of murder.

The Paris setting was excellent, the suspenseful build-up was good, but the plot seemed to me to "cross the line" into the completely unbelievable. (Not the bit about the tooth; I bought that. The plot just went over the top at its climax.)

3½ stars

P.S. The links are affiliate links so I will receive a small percentage of any purchase you make after clicking through from this blog.

2 Comments to