When February 2014 rolled around I was in my third month of living at my recently deceased mother's house and sorting through her worldly possessions.
My mother's name was Bea – and she used the bee as a theme for her life for 35 years.
She had everything bee – bee jewelry, bee teddy bears, bee wind chimes, bee
planters, bee notepads: anything you can name that could possibly have a bee on it, she had. After a few close friends took the bees they wanted (generally the ones that they had given her), I filled five cardboard boxes with bee paraphernalia.
Being in the midst of all those bees, I decided to have a bee-themed reading month too.


1. ROBBING THE BEES: A Biography of Honey—the Sweet Liquid Gold that Seduced the World by Holley Bishop (Non-fiction, Nature, Environment)

From Amazon: "Bishop — beekeeper, writer, and honey aficionado — apprentices herself to Donald Smiley, a professional beekeeper who harvests tupelo honey in the Florida panhandle. She intersperses the lively lore and science of honey with lyrical reflections on her own and Smiley's beekeeping experiences. . . . Part history, part love letter"
Both beekeeper Smiley and Bishop are highly likeable and I greatly enjoyed this peek into making a living from honey, bottled yourself, before colony collapse syndrome.
Read this if: you've ever wanted to keep bees. 4 stars


2. THE BEEKEEPER'S LAMENT: How One Man and Half a Million Honeybees Help Feed America by Hannah Nordhaus (Non-fiction, Nature, Environment, Business)

"Award-winning journalist Hannah Nordhaus tells the remarkable story of John Miller, one of America's foremost migratory beekeepers, and the myriad and mysterious epidemics threatening American honeybee populations."
Make no mistake: John Miller is not a beekeeper; he is a big-business man. He moves his bees across the United States in climate-controlled tractor trailers, not in a pick-up truck. The honey he collects is blended and homogenized for the honey industry.
Although this book was as well researched and written as Robbing the Bees, I enjoyed it less because of the big-business perspective, enlightening as that was.
Read this if: you want an up-to-date picture of the health of North America's honeybees (not good) and the impact of that on our ability to feed ourselves. 4 stars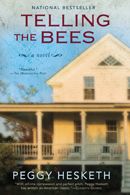 3. TELLING THE BEES by Peggy Hesketh (Fiction, American)
This is a gentle novel about a beekeeper and life. Ali, who blogs over at Heavenali, posted a great synopsis recently. Rather than retell the story, I'll let you pop over there if you're interested.
This was pleasant to read but it didn't sweep me off my feet. 3½ stars


4. THE ADVENTURES OF MAYA THE BEE by Waldemar Bansels (Fiction, Children's Chapter, Classic, Translated)

First published in German in 1912, this series of adventures stars a young rebel bee who leaves the hive despite warnings to the contrary. She encounters good insects and bad, dangers and delights. The overarching theme of the book is a hit-you-over-the-head moral play: obey, work hard, be loyal.
Wikipedia advises that it was originally published as a fable with a political message. "Maya represents the ideal citizen, and the beehive represents a well-organised militarist society. It has also elements of nationalism and speciesism."
I understand this is now also a comic book and an animated television series with its attendant marketed products. The moral of that series, I'm sure, is not what Bansels originally intended.
P.S. This is a free Kindle ebook on Amazon. 3 stars

* * * * * * * * * *


Since there is a total of only six books this month, I'm including the mysteries in this post.
1. THE BEE'S KISS by Barbara Cleverly (Fiction, Mystery, British)
Although this is #5 in the Detective Joe Sandilands series, it is the first of the series that I have read. Writing about it now reminds me that I wanted to start at the beginning of the series but haven't yet done so.
Britain, 1926 (I love these books set between the two World Wars). A society matron is murdered and the investigation uncovers—you guessed it—secrets.
The characters are deftly developed, the plot ingenious, and the reveal stunning. It made me able to calm my OCD regret that I hadn't started at the beginning of the series. 4½ stars


2. DEATH BY A HONEYBEE by Abigail Kearn (Fiction, Mystery, American, Contemporary)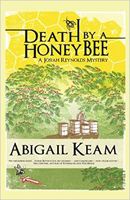 Kobo synopsis: "Josiah Reynolds, a former art history professor, was once a celebrity with wealth, social position, and a famous husband. Now all of that is gone. The professor finds her circumstances drastically altered. Retired, Josiah is now a full time beekeeper trying to stay financially afloat by selling honey at the local Farmers Market."

I thought the whole set-up—the award-winning house, the obsession with her (much) younger pool boy, and her other friendships—sounded contrived, and Josiah seemed to be being rough-edged for the sake of being so. Plus, I didn't think the mystery was that big of a deal.

Yvette who blogs at In So Many Words felt much differently, and said so in her recent review. 1 star
P.S. The Kindle version of Death by a Honeybee is free on Amazon.


* * * * * * * * * *


Did you know that raising bees in the traditional "hive" shaped skep (as depicted in the intro to this post) is illegal in many countries, including the US, because the removal of the honey often causes the destruction of the entire colony of bees?

So, I learned a lot about bees and honey, and discovered a great new-to-me mystery series, in only six books. Not a bad return for my efforts. Plus I seemed to be getting my reading mojo back!

Does anything catch your fancy?


P.S. The links are affiliate links so I will receive a small percentage of any purchase you make after clicking through from this blog.

8 Comments to