July was another heavy reading month: when the weather gets hot, I slow down. All that beach reading paid off.
I've posted the mysteries I read in the month, separately, as usual.


1. SALT, SUGAR, FAT by Michael Moss (Non-Fiction, Health)
As the obesity issue in North America becomes critical, we want to be informed consumers. This fine piece of investigative journalism by Pulitzer Prize winning journalist Moss is not so much a shocking exposé of the processed food industry as confirmation of what we've suspected all along.
Moss's intent in writing this book was "If nothing else . . . as a wake-up call to the issues and tactics at play in the food industry, to the fact that we are not helpless in facing them down. . . Knowing all this can be empowering. You can walk through the grocery store and, while the brightly colored packaging and empty promises are still mesmerizing, you can see the products for what they are."
Read this if: you're concerned about the growing obesity levels in North America; or you are determined to make informed choices about your diet. 4½ stars


2. A LONG WAY GONE: Memoirs of a Boy Soldier by Ishmael Beah (Non-Fiction, Memoir, Sierra Leone)

When the civil war in Sierra Leone came to Ishmael Beah's village, he was a thirteen-year-old boy, doing what other boys all over the world do: hanging out with friends, listening to music and practicing dance moves. In fact, he was in a neighbouring village to enter a competition. He was not able to return to his home village that day and he never saw his family again
Over the next three years, Beah was on the run for his life until he was rescued by UNICEF personnel and rehabilitated.
This is a touching memoir with detail that brought the author's terror to life.
I would have liked some more information about his life in the USA and the challenges he faced in assimilating into his new life, but that is a small quibble.
Read this if: you want to understand how young African boys become soldiers with guns they can barely carry. 4 stars


3. A LIGHT IN THE ATTIC by Shel Silverstein (Poetry, Children's)


This children's book of verse was one of my daughter's favourite books when she was growing up – and one of mine too. It's not just poetry – it's masterful word play and lots of humour.
As a bonus, the multi-talented Silverstein (singer-songwriter, cartoonist, screenwriter, & author of children's books) illustrated his own work.
It was difficult to choose just one example of his poetry to share with you!
How many slams in an old screen door?
Depends how loud you shut it.
How many slices in a bread?
Depends how thin you cut it.
How much good inside a day?
Depends how good you live 'em.
How much love inside a friend?
Depends how much you give 'em.
Read this if: you're looking for a book to encourage a love of words in a youngster in your life; or you're a young-at-heart lover of words yourself. 4 stars


4. THE SWEET DOVE DIED by Barbara Pym (Fiction, Vintage)

Barbara Pym continues on a path away from the genteel middle-aged ladies of the Anglican church. The Sweet Dove Died is named for a line from Keats:

I had a dove, and the sweet dove died;
And I have thought it died of grieving;
O, what could it grieve for? Its feet were tied
With a single thread of my own hand's weaving.
This is the feeling encapsulated in Pym's story.
Lenora, a middle-aged woman befriends well-to-do Humphrey, 60, and his nephew James. Unwilling to admit her aging, she is in love with the 25-year-old nephew while the uncle is enthralled by her. Lenora uses that situation to her best interest until James is enticed away by the young American, Ned.
As in life, the situation leads only to unhappiness all around. I love that Pym didn't sugar-coat the outcome.
Read this if: you enjoy tales that look honestly at relationships between men and women, in a satiric fashion. 4 stars


5. GOOD KINGS, BAD KINGS by Susan Nussbaum (Fiction, Social Issues)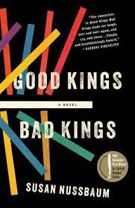 I didn't really understand what this book was about before I started it, and had expected a story set in a home for "juveniles with disabilities" to be darker than this ultimately is.
The author, who was the 2012 winner of Barbara Kingsolver's PEN/Bellwether Prize for Socially Engaged Fiction, does a marvelous job of making her young characters come alive and 'investable' to the reader.
The only drawback is (what I thought to be) a weak ending.
Read this if: you want to better understand what it is like to live 'disabled', especially as a teenager in a care institution. 3½ stars


6. BOBCAT by Rebecca Lee (Fiction, Short Stories)
Rebecca Lee is the kind of author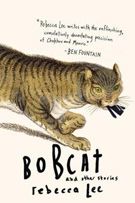 who weaves words into art so lovely you'll be bewitched by her language even when her stories don't have the impact you wish they did.
Set mainly in academia, Lee's short stories are of "infidelity, obligation, sacrifice, jealousy, and . . . optimism."
Read this if: you're an admirer of words and beautiful sentence structure; or you enjoy intelligent insights into university life. 3½ stars


7. GONE GIRL by Gillian Flynn (Popular Fiction, Suspense)

What can I say about this book that hasn't already been said? "Nothing" is probably best.
I went into this already knowing—or guessing—some of the story, and that really deflated the suspense for me.
I admit Flynn is skilled in conveying how evil can come in Amy's pretty package, but I didn't get the sense of wickedness in Nick that others seem to have found.
Read this if: You'd like a character-driven thriller; or if you're going to see the movie – you should always read the book first! 3½ stars


8. THE CRANE WIFE by Patrick Ness (Fiction, Literature, Magical Realism, Fable)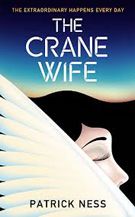 Beautifully written, this modern-day story feels like a folkloric myth and although it is based on Japanese lore, it has universal appeal and could easily be Ukrainian, Finnish, or Native American.
Middle-aged & lonely George Duncan helps an injured crane that lands in his garden one night, and then finds his life changed by the appearance at his shop the following day of a beautiful Japanese woman. The story depends on magical realism so be prepared to suspend disbelief.
WARNING: one character in particular uses profanity including that word that begins with the sixth letter.
Read this if: you enjoy folklore or fairy tales; or you are a fan of beautifully crafted prose. 3½ stars
Note: I won this in a contest held by Tracey at Carpe Librum. She mailed it all the way from Australia (to Nova Scotia, Canada) for me! Thank you again, Tracey!


9. INSTRUCTIONS FOR A HEATWAVE by Maggie O'Farrell (Fiction)
The adult children of Robert & Gretta Riordan converge at their mother's house after their father disappears one morning on an errand to the corner store.
Instructions for a Heatwave is a pretty standard 'family-issues' novel centering on an Irish immigrant family in London. It's well-written but I think I would have appreciated it more if I was British.
Read this if: you're interested in stories that demonstrate the continuing strength of origins on immigrants. 3½ stars


10. CRISS-CROSS by Lynne Rae Perkins (Fiction, Young Readers)


What was the last book you read in which a main character was named "Debbie". Ah-ha! I thought so: it is—or never was—a popular name for heroines.


In this novel for young people Debbie is a fourteen-year-old in 1973, waiting for something to happen in her life. Hector, 14, is also waiting. Together with three other teenagers they gather weekly in one teen's father's truck to listen to a radio show called Criss-Cross.
Ultimately, this is a sweet but unmemorable story. It won the Newbery Medal for Best Children's Literature in 2006, but I've read stronger winners.
Read this if: your name is Debbie & you're participating in a reading challenge like Semi-Charmed's Summer Event; or you'd like a gentle, realistic tale that will take you back to the early 1970s. 3 stars


11. ONE LAST THING BEFORE I GO by Jonathan Tropper (Popular Fiction)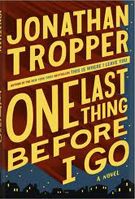 Drew Silver's life is in the toilet: he's divorced from the woman he loves, estranged from his teenage daughter, and he's living in a community of other pathetic lonely divorced men who are also waiting for their wives to take them back. When he's diagnosed with an aorta that's going to split and kill him, he opts to not have surgery since he feels his life isn't worth living. Instead, he'll use the remaining time to repair relationships with the people in his life.
It's just a notch above formulaic and mundane.

Read this if: you need a reminder to pay attention to the people in your life while you still have time. 3 stars

## – Although I completed many of the 2013 reading challenges that I "unofficially" entered, for the rest of my 2013 reading record here I'm going to desist with noting which books fulfilled what requirements. I suspect that nobody but me really cared anyway.

Disclaimer: I am an affiliate of Book Depository and if you purchase there after clicking on any of the above links, I will earn a small percentage of the sale.
I choose to link to Book Depository because they have reasonable prices and free shipping JUST ABOUT ANYWHERE IN THE WORLD.
Generally, I link to the lowest priced version of each book (which is usually paperback) but in many cases hardbacks and audio books are available.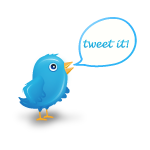 BOOK DEPOSITORY has free world-wide delivery: