I tried a couple of new series this month – with mixed results.
And since I was away from home, I read all three books on my Kindle app.
1. THE GOOD THIEF'S GUIDE TO AMSTERDAM by Chris Ewan (Fiction, Mystery, Series)

The Good Thief series features Charlie Howard, master criminal, who accepts 'challenges' around the globe. This first in the series, my introduction to him, was excellent: the mystery well-paced and evenly-developed.
I was exposed to enough tidbits about Amsterdam to get a flavour of that city and look forward to globe-trotting in the future with Charlie.

4 stars
2. THE KILLING FLOOR by Lee Child (Fiction, Crime, Series)


This, the first in the very popular Jack Reacher series, introduced Reacher, an ex-military police officer and now-drifter, who happens upon a town in Georgia where he's arrested for a murder that he didn't commit.
Reacher's voice in this story was in the first person; it's warm and intelligent. The story was very good as well.
I was sure I'd found a series that I'd really enjoy.

4 stars
3. DIE TRYING by Lee Child (Fiction, Crime, Series)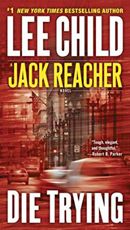 This second installment in the Jack Reacher series was a great disappointment.

Child changed the story to a third person point of view, and this seemed run-of-the-mill after the almost-endearing voice of the first book. Plus, the body count in this instalment just got away from us; it seemed to me to be a lot of gratuitous killing.

I don't know if the third person voice continues in the rest of series since this outing was enough to make me move the next book so far down my TBR list that I haven't yet returned to it.

3½ stars

I know that the Jack Reacher series is immensely popular, and my sister likes it very much. But I'm hesitant to go on to the third book.

Have you read this series? What do you recommend?

P.S. The links are affiliate links so I will receive a small percentage of any purchase you make after clicking through from this blo

2 Comments to