In May 2015, I was on vacation in Ontario, visiting family. During the Monday to Friday work days, I stayed home and read. And read. And read. (It was wonderful, really.)

A short post detailing the mysteries in my list will follow.
1. A TIDEWATER MORNING by William Styron (Fiction, Literary, Classic)
William Styron is one of those mid-twentieth century authors of literary fiction whom I've always meant to read. Tidewater Morning is a novella that I happened to have on Kindle which I had taken with on vacation.
Amazon says: "In this brilliant collection of 'long short stories', the Pulitzer Prize-winning author of Sophie's Choice returns to the coastal Virginia setting of his first novels. Through the eyes of a man recollecting three episodes from his youth, William Styron explores with new eloquence death, loss, war, and racism."
Styron's prose is magical: calming, glowing. I loved this book!

4½ stars
2. OUR ENDLESS NUMBERED DAYS by Claire Fuller (Fiction, Literary)
In 1976, eight-year-old Peggy's survivalist father takes her from London, on a summer hike in a remote European forest. There he tells her that they are the only survivors of a global disaster. They live in the woods for nine years – critical years in Peggy's growing-up.
In time, Peggy meets Rudy who helps her escape. When she finds she is not alone in the world after all, everything she thought she knew is thrown into doubt.
If you haven't read any spoilers, you'll no doubt be taken aback by the surprise twist ending.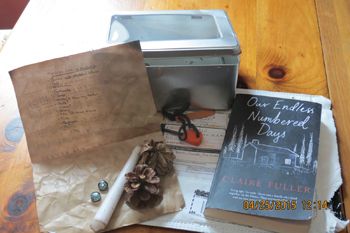 Fuller's debut novel was highly touted in 2015. I won it from Claire at Word by Word who sent it all the way from France in its own survival kit containing items mentioned in the story. It was a delight to receive this in the mail!
4½ stars
3. BLACK OUT by Connie Willis (Fiction, Science Fiction, Time-travel)

Ah, time-travel!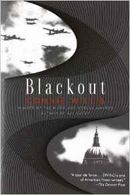 A project in 2060 Oxford sends several students to various places in the Second World War. They do know a lot of history, but who can know every detail? In London during the Blitz, they face air raids, blackouts, and missed assignations with their controls.
Willis' time travel is complex but, in the end, it all makes sense. But beware – this is a door stopper, but does not contain 'the end' in which sense is made. It's only the first half of the story, which is completed in All Clear which I read the following month.
Embark on Blackout only if you're ready for a 1,147 page odyssey to WWII. I loved it!

4 stars

4. SPARE CHANGE by Bette Lee Crosby (Fiction, Women's, Southern)
Wyattsville Novel Book 1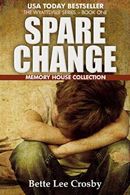 From Amazon: "Small-town gossip never much bothered Olivia Westerly. As a single career woman, she's weathered her share. It's easy to ignore the raised eyebrows over her late-in-life marriage to Charlie Doyle. But after he drops dead on their honeymoon, the whispers are salt on her raw grief. Especially when an orphaned, eleven-year-old-boy shows up on her doorstep, looking for the grandfather he never met."
This is a charming story with enough suspense to form a firm plot. Despite it not being a genre of my first preference, I thoroughly enjoyed this.
I received a complimentary ecopy from the author. This did not affect my review.

4 stars

5. LESTER B. PEARSON, 14th PRIME MINISTER by Gordon Gibb (Nonfiction, History, Politics) from the Prime Ministers of Canada series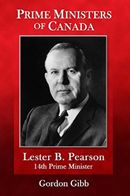 When I was first becoming aware of government in the 1960s, Lester Pearson (after whom Toronto's international airport is named) was Prime Minister of Canada.
He was responsible for the debate that gave Canada a new flag to replace the Red Ensign that identified the country as part of the British Commonwealth. That 'new' flag with its distinctive maple leaf is one of the most recognizable in the world. I remember the flag as an early development in the making of the modern "Canadian identity".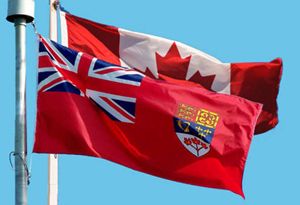 I was very interested to read this middle-grade level story of Pearson's government. I found it well-written and clearly set out and I highly recommend this book as an introduction to this exciting time in Canadian history.
I received my ecopy of this book from LibraryThing's Early Reviewer program. This did not affect my review.

4 stars

6. JUBILEE'S JOURNEY by Bette Lee Crosby (Fiction, Women's, Southern)
Wyattsville Novel Book 2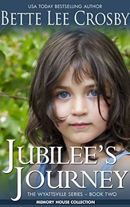 This is a continuation of the story in Spare Change (above). It has the same characters and the same charming southern writing—but without the plot twist at the end that would have been cliché a second time around.
However, I didn't find enough unresolved tension in this story to make it quite as interesting the debut.
I received a complimentary ecopy from the author. This did not affect my review.

3½ stars

7. THE THING ABOUT GREAT WHITE SHARKS & Other Stories by Rebecca Adams Wright (Fiction, Short Stories)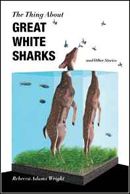 Many of these are set in the near-future or in dystopian worlds. In the title story, after "the fever" has turned all flora & fauna into human-attackers, Jennifer is conscripted by the government for 'fear' testing. Put into a room or a pool with such animals as pythons and sharks, her reactions are monitored for use in the military.
In Sheila, the story I remember most clearly, an elderly man faces the destruction of his beloved robotic dog. It's heart-breaking.
Other stories include aliens or Orwellian futures.
If you're a reader of science-fiction, or a fan of dystopia, do pick this book. For me, it was a little too weird.

3½ stars

8. PASSION FOR PARIS: Romanticism and Romance in the City of Light by David Downie (Nonfiction, History, Travel, Bibliophilic)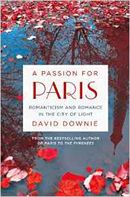 What a lovely book to take if we ever moved to Paris and had time to explore in depth! The geography and history of 'literary celebrities', especially of the Grand Epoch, are covered in rich detail.
As a book for a casual reader, it was not so interesting.
I received my ecopy from NetGalley. This did not affect my review.

3½ stars

9. THE PAINTED KISS by Elizabeth Hickey (Fiction, Historical, Art)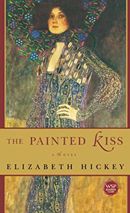 From Amazon: "Gustav Klimt, one of the great painters of fin de siècle Austria—and the subject of Helen Mirren's latest film, Woman in Gold—takes center stage in this passionate and atmospheric debut novel, which reimagines the tumultuous relationship between the Viennese painter and Emilie Flöge, the woman who posed for his masterpiece The Kiss, and whose name he uttered with his dying breath."
This should have been a knock-out but I found it rather bland.

3½ stars

10. WONDERFUL TONIGHT by Pattie Boyd (Nonfiction, Memoir)
What to make of the woman who inspired Something, Wonderful Tonight, and Layla by rock greats George Harrison and Eric Clapton?
Pattie Boyd was that woman and in this memoir she tells us about herself and what it was like living with these famous musicians in their heyday. Since that music formed the soundtrack of my youth, and that time is still vivid in my memory, I really enjoyed this memoir.
Until, that is, a few weeks after I finished the book I saw a news item that Boyd had married her 'long-time boyfriend', who, she many, many, many times told us in the book was nothing more than a friend. In my mind, this called into question the veracity of her entire account.
Make of this what you will; I still enjoyed reading it.

3½ stars

11. THE KEPT by James Scott (Fiction, Historical, Suspense)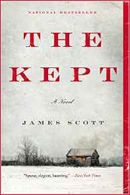 Amazon says: "In the winter of 1897, a trio of killers descends upon an isolated farm in upstate New York. Midwife Elspeth Howell returns home to the carnage: her husband, and four of her children, murdered. Before she can discover her remaining son Caleb, alive and hiding in the kitchen pantry, another shot rings out over the snow-covered valley. Twelve-year-old Caleb must tend to his mother until she recovers enough for them to take to the frozen wilderness in search of the men responsible."
I borrowed this from my daughter's bookshelf during my visit, although I had previously never heard of it. It's an odd premise, and a rather odd book although it did keep me interested enough to finish it.

3 stars

12. THE ROCHEFORTS by Christian Laborie (Fiction, Historical, Melodrama)

After visiting France in late 2014, I could not get enough of that country so I was happy to receive an ecopy of this book from NetGalley. I tried several times to 'get into' this, even skimming and re-entering, with no success.

Amazon calls this a "sweeping story of love, greed, and betrayal" but I found it trite, predictable, and overly-long.

2 stars

Because I was away from home (and wanting to travel light), nine of the twelve books I read this month were on my Kindle app. When you travel, do you read paper books or electronic copies?


P.S. The links are affiliate links so I will receive a small percentage of any purchase you make after clicking through from this blog.

12 Comments to