In April 2015, I continued with the trend I began the previous month, and Canadian literature formed just about half of my reading. I was reading, in part, in order to be familiar with the visiting authors at the annual Read by the Sea in River John Nova Scotia in July. In the end, I missed that event, but my reading was enriched anyway.
Mysteries are detailed in a separate post.
1. BELONGING: Home Away from Home by Isabel Huggan (Nonfiction, Travel, Canadian)

Canadian author Isabel Huggan & her husband fell in love with southern France on a holiday trip there and decided to relocate their home to where they had left their hearts. They intended it to be 'home', not a holiday house nor a second home but their permanent residence.
I choose to think that those of us who settle here permanently—définitivement—are more kindly looked upon than those who just drop in for a few weeks of sunny weather. But I may be fooling myself.
Huggan explores the concept of 'belonging" not only in relation to fitting in and becoming a part of the French community, but also in relation to no longer 'belonging' in Canada when they visit.
Although I had initially thought that the part about acclimatizing to France would be the bit that 'spoke' to me, her thoughts on no longer belonging to her native land resonated more with me. I was born and raised and lived the first 48 years of my life in Ontario, but now that we have been in Nova Scotia for nearly 15 years, we find Ontario to be a foreign country when we visit.
It's well worth reading this lovely narrative.
4 stars
2. ROOST by Ali Bryan (Fiction, Contemporary, Atlantic Canadian)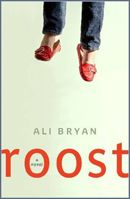 Roost was chosen as the One Book Nova Scotia selection for 2015.
Set in Halifax, Nova Scotia, it relates a slice of life for Claudia, a recently-single mom of two pre-schoolers, whose mother dies suddenly at the age of 60. Claudia must cope not only with her own grief, but also that of her brother, and of her father – who starts to hoard. Plus, her ex is moving to another relationship.
I found this to be laugh-out-loud funny, but it does contain a lot of crude language.
4 stars
3. A HUNDRED FLOWERS by Gail Tsukiyama (Fiction, Historical)

Set in Mao's China in 1957, the title of this book refers to the program—"Let a hundred flowers bloom; let a hundred schools of thought contend"—that saw intellectuals and artists feel free to express dissident ideas, only to find that it led to arrest and 're-education' in labour camps, or even death.
Kai Ying's husband, Sheng, is dragged away the morning of his son's sixth birthday and sent to a labour camp.
Amazon describes it as "a powerfully moving story of ordinary people facing extraordinary circumstances with grace and courage."
It was an interesting lesson in China's history but it wasn't powerful enough to sweep me off my feet.
4 stars
4. A BRIEF MOMENT OF WEIGHTLESSNESS by Victoria Fish (Fiction, Short Stories)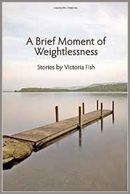 Each story in this collection is rich – in language, and in relationships. For the most part, these are everyday situations: a family returning to the family cottage for their annual vacation, an elderly woman faced with having to enter a nursing home, a young girl grieving her mother who has died of breast cancer, but in each Fish plumbs the depth of the complex human heart.
The nature of short stories is that they are often unresolved, but I found these even more so, else I might have rated this a half star higher.
4 stars
5. A BUNCH OF PRETTY THINGS I DID NOT BUY by Sarah Lazarovic (Nonfiction, Illustrated)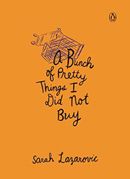 Oh, the irony! One of the books I indulged in buying new this year, rather than obtaining it second hand, or from the library was this one – about material things. It received such glowing comments in the Globe & Mail!
The author illustrated this herself, and I expected (and wanted) a sort of journal of lovely items that she had considered, the circumstances under which she considered them, and the reason she decided not to buy. Since reading this, I have thought that I might just make my own journal of such items (only, with cut and pasted pictures.)
Because this book wasn't that.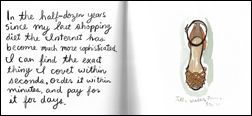 A small (5"x7", 13cmx19cm) hardback (looking as though it's missing its [non-existent] dustjacket), A Bunch of Pretty Things is more a treatise on (over)consumerism, and the learning process to minimalism. As Amazon says: "A witty, gracious, and charmingly illustrated anti-consumer manifesto". I see now that it's interesting, but not what I wanted at the time.
This is an excellent book for twenty-somethings and thirty-somethings to read through. The teenage angst and lack of thoughtfulness about consumerism throughout the first part of the book may irritate anyone older. The last chapter – Conclusions – includes a guide to recognizing quality and "simple rules for better shopping", the things the over 60 crowd was taught in school (at least, I was).
3½ stars
6. THE WIND SELLER by Rachael Preston (Fiction, Middle-grade, Atlantic Canadian)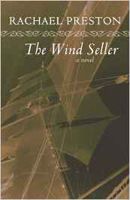 Set in 1924 in a Bay of Fundy coastal village near Economy, Nova Scotia, this middle-grade fiction explores the after-effects of the Halifax Explosion seven years earlier.
Honestly, I remember very little else about this but I did rate it at the time of reading – and I noted that the author has never lived in Nova Scotia. Was that important, I wonder?

3½ stars
7. A TOUCH OF STARDUST by Kate Alcott (Fiction, Historical, Women's, Hollywood)

I love old black and white movies of the 1930s and '40s and am interested in the film stars of old. I've always been intrigued that Carole Lombard was purported to be, before her tragic death at age 36 in an airplane crash, the love of Clark Gable's life.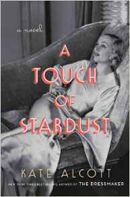 Unfortunately, in an attempt to bring Lombard to life, Alcott infused her vocabulary with profanities that were rare by most standards until only a couple of decades ago. It seemed affected to me, and limited my enjoyment of this fictionalized account of the making of Gone with the Wind. Even if Lombard really did talk like that, was it necessary to use to make the point of her "strength"?

3 stars

What do you think? Was I too hard on any of these?

P.S. The links are affiliate links so I will receive a small percentage of any purchase you make after clicking through from this blog.

4 Comments to