In February 2015, my reading slowed down a bit after that heavy January but I read a book that has earned a place in my top 100 lifetime books, perhaps even the top 25. Everything else I read was excellent, too.
P.S. I didn't read any mystery books this month, so this is the only post for February 2015.


1. A BEAUTIFUL TRUTH by Colin McAdam (Fiction, Literary)

Set in Vermont and in a Florida primate research facility, this story is told alternately from the point of view of humans, and chimpanzees.
A wealthy young couple Walt and Judy, unable to conceive children, adopt a young chimpanzee who enjoys a pampered life with them. Meanwhile, in Florida, chimps have been studied (and more) for decades. These two stories tragically intersect.
This is an extremely powerful book that continues to haunt me, though I read it nearly three years ago.
I can't recommend this highly enough.
2. THE CHICKEN THIEF by Fiona Leonard (Fiction, African, Literary)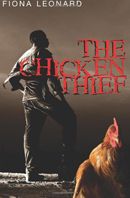 Set in an unidentified West African country, this follows Alois, a consummate chicken thief who is recruited to protect a war hero.
It's a gentle satire, amusing at times, but overall a bold statement on African politics.
4 stars
3. THE LOWLAND by Jhumpa Lahiri (Fiction, Indian, Literary)

The Lowland is the story of two brothers who grow up in a village in India. Ones moves to America, the other stays in his home village.
I found that, although this told a story with a powerful ending and was well-written, it dragged for me in spots.
4 stars
4. PRAIRIE OSTRICH by Tamai Kobayashi (Fiction, Canadian, Literary)

From an Amazon reviewer:
"Bookish, [Japanese-Canadian] eight-year-old Egg Murakami lives on her family's ostrich farm in rural, southern Alberta. It is the end of the summer, 1974. Since her brother's death, her Mama curls inside a whiskey bottle and her Papa shuts himself in the barn. Big sister Kathy — in love with her best friend, Stacey — reinvents the bedtime stories she reads to Egg so that they end in a happily ever after.
Confronted by bullies and the perplexing quirks of the adults around her, Egg watches, a quiet witness to her unraveling family as she tries to find her place in a bewildering world."
Don't read this if you require happy endings.
5. THE COLOUR OF MILK by Nell Leyshon (Fiction, South African, Historical)


The Colour of Milk is told from the point of view of fifteen-year-old Mary who is asked to work in the home of the village minister. She's a pretty girl with hair the colour of milk, and it is this that has attracted the man to her.
It's a short book over which suspense steadily builds while the reader discerns what is coming.
4 stars


6. THE HOUR OF PERIL: The Secret Plot to Murder Lincoln before the Civil War by Daniel Stashower (Narrative Nonfiction, Historical, American)

When we think of Lincoln and an assassination attempt, we no doubt think of Ford's Theatre on April 15, 1865.
This book tells of police work that purportedly uncovered a plot to kill Lincoln in Baltimore in February 1861. Based on evidence, the law agencies were able to convince the President to change his train route and, as we know, he was not murdered then.
I'm not American so it takes a really good book to draw me into an isolated incident in US history. This well-written account kept my interest throughout.
4 stars
7. MOVING TO THE COUNTRY ONCE AND FOR ALL by Lisa Rogak (Nonfiction, Narrative Essay)
This was really an excellent guide for leaving an urban setting and settling into a rural life. There are chapters on how to choose a town, employment opportunities, and the nitty-gritty of country living, among others, and Lisa tells us about these in an engaging way.

The one problem with this book is that some of the material has seriously dated.

3½ stars


Have you read any of the excellent books in this month's reading?

P.S. The links are affiliate links so I will receive a small percentage of any purchase you make after clicking through from this blog.

6 Comments to