Yup – you read that right: 2015. I'm three years behind in recording the books I've read. But one must start somewhere, so away we go.
January! A new year – and I celebrated by indulging in mysteries. They're in a separate post, as usual. Herewith are the four non-mystery books that I read.


1. SILENCE OF THE SONGBIRDS: How We Are Losing the World's Songbirds and What We Can Do to Save Them by Bridget Stutchbury (Non-fiction, Nature)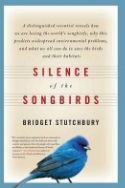 I've noticed in the last few years and especially in the spring and summer of last year that there are fewer songbirds trilling their calls around our country property.
Since reading Silence of the Songbirds, I have a good idea why this is – not that it makes me feel any better.
Rachel Carson's Silent Spring is still a classic on this subject, but Stutchbury's book is an up-to-date consideration of the whole of North America.
These are disturbing facts; I often see in my mind's eye, even now three years after first reading of them, all those dead hawks falling from the sky over southern fields.
2. THE LAST DAYS OF PTOLEMY GREY by Walter Mosley (Fiction)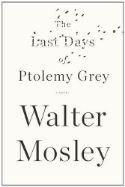 91-year-old recluse Ptolemy Grey lives forgotten by the world and suffering from increasing dementia. He's offered a chance to engage in an experimental drug test that will clear his mind, but cause his death within one year.
Publishers Weekly says: "Though the details of the experimental procedure are less than convincing, Mosley's depiction of the indignities of old age is heartbreaking, and Ptolemy's grace and decency make for a wonderful character and a moving novel." I agree.
3. ALAN TURING: ENIGMA MAN by Nigel Cawthorne (Nonfiction, Biography, History)
I was inspired to read Enigma Man after seeing the film The Imitation Game. This short biography of Alan Turing, genius of Bletchley Park and Britain's chief codebreaker during WWII is the book on which the movie was based.
The book is a little dry, but short and worthwhile to have some background knowledge on this mastermind.
4. DILIGENT RIVER DAUGHTER by Bruce Graham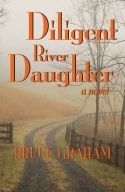 I buy a lot of books but most are clearance items or used. But remembering how much I had enjoyed The Parrsboro Boxing Club by Bruce Graham, I impulsively picked this book up at a bookstore and paid full price, expecting another gem, set in my adopted home province.

I was disappointed, however, since the WWI setting took the protagonist away from her home in Diligent River, Nova Scotia. The plot wasn't strong enough to overcome that. This is not Graham's best.

3 stars


I find that Silence of the Songbirds has really stuck with me. Have you read any good nonfiction books in the last few years that have the same effect on you?

P.S. The links are affiliate links so I will receive a small percentage of any purchase you make after clicking through from this blog.

6 Comments to