Top Ten Tuesday is a weekly linkup of book bloggers hosted by The Broke and The Bookish!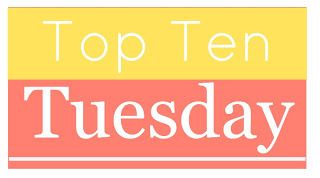 This week's topic allows me to share some covers on books that I still have on my shelves. Covers change, shelves change: this is a permutable list!

COVERS THAT EVOKE THE COUNTRY LIFE I LOVE
1. Welcome Home: Travels in Smalltown Canada by Stuart McLean
McLean is the host of the very popular CBC radio show The Vinyl Café. McLean's books of stories from The Vinyl Café have won the Stephen Leacock Memorial Medal for Humour three times.
Before The Vinyl Café, McLean traveled to small towns across Canada to visit for several weeks in each.
I love this book and I loved the cover on my copy, but when I went to Amazon to find that cover, I loved this cover on the re-issue even more!
2. From Stone Orchard: a Collection of Memories
This non-fiction work was my introduction to this icon of Canadian literature.
Findley and his partner purchased a run-down 19th century farmhouse in southern Ontario, Canada and lived there until his death in 2002. They named their estate Stone Orchard, for obvious reasons.
Even in non-fiction, Findley's writing was lyrical.

3. The Corrigan Women by M.T. Dohaney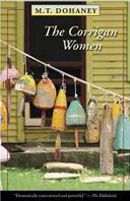 I love this cover: it represents so well the Atlantic Canadian life I've embraced.
Along with To Scatter Stones and A Fit Month for Dying, this trilogy is the story of three generations of Corrigan women: Bertha, Carmel, & Tessie.
Set in a Newfoundland outport, the stories are rich and tragic; the writing superb.
Note: Check out the cover on the recent reissue of A Fit Month for Dying. I love it; it made me laugh out loud.
COVERS THAT EVOKE A DIFFERENT TIME OR PLACE
4. The Lost Art of Keeping Secrets by Eva Rice
Aren't these clothes so elegant?
The only complaint I have about this book set in 1950s London is that, after making me salivate at the dresses on the cover of the book, there was very little detail about the party clothes. I'd really liked to have known more than just it was "sparkly mint green dress"!
But don't let that minor problem stop you from reading this delightful novel.
5. The Full Cupboard of Life by Alexander McCall Smith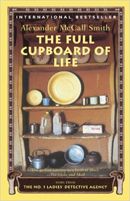 Book 5 in the No. 1 Ladies Detective Agency series featuring Mma Precious Ramotswe
There is something very touching about this cupboard, "full" of its stripped down essentials. It makes me think of my kitchen cupboards, and wonder what life would be like in Botswana.
And it's a beautifully balanced montage.
6. The Good Earth by Pearl S. Buck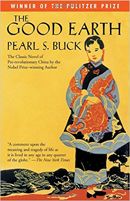 I know that this 1932 Pulitzer Prize winner has had numerous covers in its many incarnations, but this is the one on the copy that I have.
It immediately evokes traditional China, where peasant Wang Lung's life is tied up in cycles of that earth that he works so diligently to acquire.
And I love the contrast between the gold and red.
COVERS WITH WONDERFUL COMPOSITION
7. Life of Pi by Yann Martel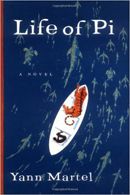 This cover is perfect.
The blue is the perfect colour. The beautiful contrasting orange is just enough.
The boat is placed in just the right position, slightly off centre.
And there's no extra text marring the composition.
Beats me why they issued all the digital "stuff" with a different cover.

8. The Underpainter by Jane Urquhart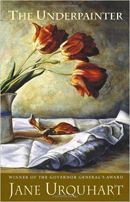 This brilliant novel won the 1997 Governor-General's Literary Award.
The cover of the current edition of this book is different. Why? Oh, why?
There's that country red again in the flowers.
The flowers imperfect; the cloth imperfect. The vase cut off.
Just beautiful.
9. This Cake is for the Party by Sarah Selecky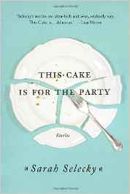 So far, this cover is the only one this book has had – and that's a good thing.
You just know these are not "live happily ever after" short stories, but are about real life.
The broken plate. The crumbs.
Amazing how the imperfect makes it perfect.
10. The Illustrated Man by Ray Bradbury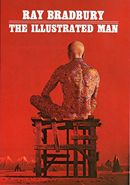 This is not a beautiful cover. Frankly, it gives me the creeps.
But, wow, what an impact it had on me when I first read this as a teenager.
That was 45 years ago – and I can still see the cover without seeing it. If you know what I mean.
That blood red. The back of that man. So ominous.

I didn't do this intentionally, and – honest – I read books from all over the world. But six of these authors (McLean, Findley, Dohaney, Martel, Urquhart, & Selecky) are Canadian. I guess I'm on a theme.
What do you think of these? Do any of them appeal to you? What's your favourite cover?
P.S. The links are affiliate links so I will receive a small