I can't really remember what was happening in my life last September although I do remember all the books that I read. I guess it was just an "ordinary" month of life in Nova Scotia.
The four mystery books that I read are detailed in a separate post.


1. THE MOUNTAIN AND THE VALLEY
by Ernest Buckler (Literary Fiction, Vintage, Canadian author, Atlantic Canadian)
Published in 1952, this is an Atlantic Canadian classic and is set in the Annapolis Valley in Nova Scotia, in the years leading up to WWII.
It's the story of three generations of the Canaan family, particularly David Canaan of the last generation, and illustrates the eternal struggle between generations and the subsequent breakdown of families.
For example, while David and his father are working together outside, David's father thinks: "Someone of my own name will always live in my house," while David is thinking of how he can't wait to leave.
But David must sacrifice his dreams of being a writer to stay and work the family farm.
Read this if: you enjoy the novels of John Steinbeck. 4½ stars
2. OPEN ARMS
by Marina Endicott (Fiction, Contemporary, Canadian)


Marina Endicott is a multi-award winning Canadian author who read her work at the 2013 Read by the Sea festival in River John, Nova Scotia. When I heard her, I realized that I'd completely missed reading her work, so I determined to begin with her first book and read on!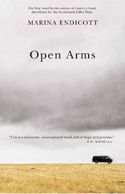 Open Arms, a finalist for the 2003 Amazon.ca/Books in Canada First Novel Award, centres on Bessie Smith Connolly, 17, who has been living with her grandparents in Nova Scotia, but has come to live in Saskatoon, Saskatchewan with her renegade mother Isabel. Isabel delivers newspapers in the early morning to pay the rent, and haunts the clubs at night, hoping to have a chance to "sing with the band" (any band). When Isabel goes missing, Bessie and her Nova Scotian grandmother go on a road trip to track her down. I loved Endicott's writing and am definitely going to continue in her canon.
Read this if: you enjoy stories that explore the relationship between mothers and daughters without unnecessary sentimentality. 4 stars
3. REGENERATION by Pat Barker (Fiction, Historical, WWI)

I eagerly anticipated Pat Barker's WWI trilogy that starts with this novel, a Booker Prize nominee.
But I wasn't aware that Regeneration is based on real-life decorated British officer, poet, and pacifist Siegfried Sassoon.
It turns out that I'm not that interested in Sassoon and would rather have had a good plot than good history. Regeneration is good writing, but I was much more moved by fictional pacifist Robert Ross in Timothy Findley's The Wars.
Read this if: you're interested in finding out about Sassoon and the numerous soldiers, both officers and enlisted men, who questioned the morality of the Great War as it was being fought. 4 stars
4. CRAMPTON HODNET by Barbara Pym (Fiction, Vintage)
One of Pym's favourite subjects is the behaviour of anthropologists as they study the behaviour of others. In Crampton Hodnet, she again examines this through a young anthropologist who has moved into her mother's village home in North Oxford to complete a paper. She cannot help observing the inhabitants of the community. This, of course, serves as an outlet for Pym's observations of human nature. This story is a little more "tied-up" than some of her others and was first published posthumously in 1987.
Read this if: you enjoy sly humour about the human condition. 3½ stars
5. LIFE ITSELF: a Memoir by Roger Ebert (Non-fiction, Memoir)

Roger Ebert is probably the best known film critic in the English speaking world. Until his failed surgeries following thyroid cancer that left him unable to speak, eat, or drink, he wrote for the Chicago Sun-Times (and was syndicated around the world) and appeared on television for thirty-three years critiquing the movies of our time.
When a full-page photo of his face without his jawbone was published after a magazine interview, he went public with what was happening in his life.
There are several chapters about his childhood and early career, three or four chapters on specific celebrities (I enjoyed the one on John Wayne), a chapter on Siskel (from which you likely will not learn much), one on (unnecessarily) justifying that he married a black woman, and then a few chapters on his illness and how things went off the rails. You might find facts to interest you, but don't expect a great deal of deep introspection, despite the book's title.
Read this if: you are a huge fan of Ebert. 3 stars
Do any of these appeal to you?

Disclaimer: I am an affiliate of Book Depository and if you purchase there after clicking on any of the above links, I will earn a small percentage of the sale.
I choose to link to Book Depository, where possible, because they have reasonable prices and free shipping JUST ABOUT ANYWHERE IN THE WORLD.
Generally, I link to the lowest priced version of each book (which is usually paperback) but in many cases hardbacks and audio books are available.

BOOK DEPOSITORY has free world-wide delivery:

6 Comments to