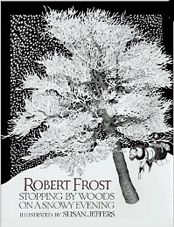 I love Robert Frost's poem Stopping By Woods on a Snowy Evening
, and even if you are in the minority that doesn't feel the same way, you're no doubt familiar with some of the lines.
I was very pleased to see this book on a sale table and snapped it up, looking forward to reading the poem again.
But the artist Susan Jeffers has used only the first and last stanzas of Frost's poem, along with a couple of stray phrases from the third verse to accompany her drawings of snowy woods. To me, the original rhythm of the piece was lost and despite the art, I was disappointed.
In addition, the rotund figure with the white beard in the horse-drawn sleigh suspiciously styled after Santa's disturbed me. I don't believe this was ever intended to be a Christmas poem and I resent that Jeffers seems to have appropriated it for that purpose.
I might have forgiven that if the poem had been intact. The artwork deserves 3 stars.
Written by: Robert Frost 1923
Illustrated by: Susan Jeffers 1978
Published by: Dutton's Children's Books, NY 1978
Canadian link:
Stopping By Woods on a Snowy Evening
2 Comments to