I got bogged down in the middle of Henry David Thoreau's Walden
this month (it'll be in March's batch since it's not yet finished), and trying to catch up with reviews for the books I read in January. Add to that a shortened month, and the result is that my reading list is a little thin for February.
I'm trying hard to get caught up in my reviews because I don't want to be playing catch-up for the rest of the year.
Here's what I managed to read this month:
1. My Financial Career and Other Follies
by Stephen Leacock


This collection of Leacock's short stories written between 1895 and 1943 is the first five star book I've read this year. I loved, loved, loved it. Watch for the review. In the meantime, here's a little taste. (5 stars)
2. Macbeth
by William Shakespeare

Macbeth is one of the Shakespeare plays that I am most familiar with. I read it for the Reading Shakespeare challenge which may have fallen by the wayside. I'm waiting a few more days for Risa's prompts for the review. (4½ stars)
3. The Secret River
by Kate Grenville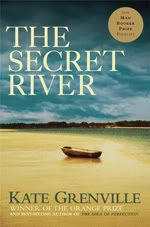 Set in Australia in the early nineteenth century, this is the story of William and Sarah Thornhill, a fictionalized account of the author's ancestors' settlement. (4 stars) I'll be reviewing this in tandem with:
4. Searching for the Secret River
by Kate Grenville


The non-fiction account of Grenville's research of her family tree and then the book The Secret River. A look into the birth of a novel.(4 stars)
5. Chickens, Mules and Two Old Fools
by Victoria Twead


Subtitled "Tuck into a slice of Andalucían Life". Non-fiction account of how two fifty-something Brits quit that rainy isle and retired to a mountain village in sunny Spain. Intelligent & amusing – plus luscious-sounding recipes! (4 stars)
6. Trixie Belden & The Red Trailer Mystery
by Julie Campbell


This is another of the Books That Made Me Love Reading. It's the second in this classic series that, while never achieving the cult status of Nancy Drew, had many, many loyal fans, of which I was one. (4 stars)
7.
A Prairie Boy's Winter
by William Kurelek


Non-fiction illustrated memoir of winter on a Canadian prairie farm during the 1930s and 1940s. Kurelek is better known as an artist than a writer, and this book is really a narrative to explain a series of his paintings. (4 stars)
8. Seeing Trees
by Nancy Ross Hugo & Robert Llewellyn

Subtitled 'Discover the Extraordinary Secrets of Everyday Trees', this non-fiction book "invites readers to watch trees with the care and sensitivity that birdwatchers watch birds." Llewellyn's photographs are breath-taking and the information is fascinating, but only one of the ten trees looked at in detail lives where I live. Four stars minus half a star for not being relevant to me. (3½ stars)
9. A Shortage of Bodies
by Dr. Gary D. McKay

This is the first novel for McKay who has co-authored 14 books and parent/teacher education programs. I think he should have stayed with the non-fiction. I'll explain in my review. (2½ stars)
Is there anything in particular in my list you're looking forward to hearing about?
For Canadian readers:
My Financial Career and Other Follies

Macbeth

The Secret River

Searching For The Secret River

Chickens, Mules and Two Old Fools

Trixie Belden & The Red Trailer Mystery

A Prairie Boy's Winter

Seeing Trees: Discover the Extraordinary Secrets of Everyday Trees

A Shortage of Bodies
Kindle editions:
My Financial Career and Other Follies

The Tragedy of Macbeth

Searching For The Secret River: The Story Behind the Bestselling Novel

Chickens, Mules and Two Old Fools

Trixie Belden & The Red Trailer Mystery

A Shortage of Bodies
6 Comments to