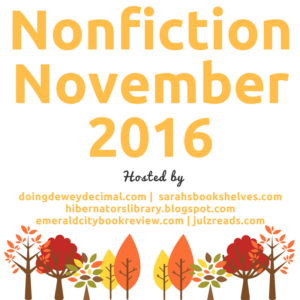 The 2016 edition of Nonfiction November is wrapping up. This week's link-up is hosted by Lory at The Emerald City Book Review.
Lory asks: Which of this month's amazing nonfiction books have made it onto my TBR?
NEW TO MY TBR LIST THIS MONTH:
Field Notes: A City Girl's Search for Heart and Home in Rural Nova Scotia by Sara Jewell
Amazon: "Field Notes includes forty­-one essays on the differences, both subtle and drastic, between city life and country living. From curious neighbours and unpredictable weather to the reality of roadkill and the wonders of wildlife, award­-winning narrative journalist Sara Jewell strikes the perfect balance between honest self-­examination and humorous observation." Plus, Jewell lives just an hour down the road from me!
This was recommended by Naomi of Consumed by Ink. I already have it reserved at the library.

The Bucolic Plague: How Two Manhattanites Became Gentlemen Farmers by Josh Kilmer-Purcell
Kilmer-Purcell writes with dramatic flair and trenchant wit, uncovering mirthful metaphors as he plows through their daily experiences, meeting neighbors, signing on caretaker Farmer John, herding goats, canning tomatoes, and digging a garden, as he and his partner fix up their 205-year-old house near the hauntingly beautiful town of Sharon Springs, N.Y.
JoAnn of Lakeside Musing recommended this to me. My library 'holds' list now also includes this title.

When in French: Love in a Second Language by Lauren Collins
Amazon: "What does it mean to love someone in a second language? Collins wonders, as her relationship with her French boyfriend Olivier continues to grow entirely in English. Are there things she doesn't understand about Olivier, having never spoken to him in his native tongue? Does 'I love you' even mean the same thing as 'je t'aime'?"
Language, French – this is for me! I first saw this book on Kathy's blog at Bermuda Onion, and Kate at Parchment Girl also recommended it to me. I'm so looking forward to this!
Am I Alone Here?: Notes on Living to Read and Reading to Live by Peter Orner
Amazon: "'Stories, both my own and those I've taken to heart, make up whoever it is that I've become,' Peter Orner writes in this collection of essays about reading, writing, and living. Orner reads—and writes—everywhere he finds himself: a hospital cafeteria, a coffee shop in Albania, or a crowded bus in Haiti. The result is 'a book of unlearned meditations that stumbles into memoir.'"
This was on one of Deb's lists at ReaderBuzz.

The Sound of a Wild Snail Eating by Elisabeth Tova Bailey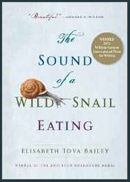 While an illness keeps her bedridden, Bailey watches a wild snail that has taken up residence on her nightstand. As a result, she discovers the solace and sense of wonder that this mysterious creature brings and comes to a greater understanding of her own place in the world.

An Adventure in Reading's raider girl told me about this one, which is now also on my library 'reserved' list.


A couple of great recommendations that also made it to my TBR list came in after I wrote this post but this represents one new book for each fabulous week of Nonfiction November 2016! Are you adding any of these to your TBR list?

P.S. The links are affiliate links so I will receive a small percentage of any purchase you make after clicking through from this blog

23 Comments to