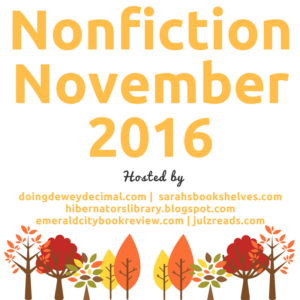 This week's link-up is hosted by Julz at JulzReads. The prompt for this week's Nonfiction November entry is expertise.

It's probably no surprise to anyone that I'm choosing to be the expert on moving-and-starting-over a new life in the country.

1. Country Matters: The Pleasures and Tribulations of Moving from a Big City to an Old Country Farmhouse by Michael Korda
From Amazon: "With his inimitable sense of humor and storytelling talent, New York Times bestselling author Michael Korda brings us this charming, hilarious, self-deprecating memoir of a city couple's new life in the country.
At once entertaining, canny, and moving, Country Matters does for Dutchess County, New York, what Under the Tuscan Sun did for Tuscany. This witty memoir, replete with Korda's own line drawings, reads like a novel, as it chronicles the author's transformation from city slicker to full-time country gentleman, complete with tractors, horses, and a leaking roof."

2. From Stone Orchard: a Collection of Memories by Timothy Findley
From Amazon: "As they say, if only the walls could talk …
The walls have never talked so eloquently or endearingly as they do in From Stone Orchard, a collection of Timothy Findley's Harrowsmith columns – revised and expanded – plus new writings, all on life at a 19th-century farm just outside of Cannington, Ontario. Here are tales of the farm's past, both distant and recent: the comic coincidences leading to the naming of the swimming pool, and why Margaret Laurence would never dip her toe in it. Or the night dinner party guests went outside in the twilight, dressed like royalty, to watch a herd of majestic deer pass through the gardens."

3. Heading Home: On Starting a New Life in a Country Place by Lawrence Scanlan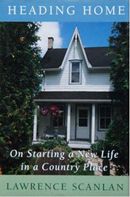 From Amazon: What harassed and harried city-dweller has not dreamed of escaping to a quiet place in the country? With his wife, Scanlan moved from the city of Kingston to a 19th Century frame house on the Napanee River in the village of Camden East, Ontario (pop. 250).

Heading Home plots their transition from city to country, with its challenges and comic twists. The book's twelve chapters, each devoted to one month, chronicle a year in the life of the village. Scanlan points to a wide range of data and interviews dozens of people who have opted out of city life–all to show that a major demographic shift is underway.

As lyrical as it is practical, Heading Home shows the way to a new life beyond the freeways and high-rises. Heading Home is the perfect book for all who have lived in the city but who yearn to start over–in a country place.

I could add to this list, but these three provide enough of a foundation for you to know if the country life is really for you.

P.S. The links are affiliate links so I will receive a small percentage of any purchase you make after clicking through from this blog

14 Comments to