In Melissa Harrison's lovely At Hawthorn Time, I also met Howard, retired from his city job and keeping from going bonkers in the country with his hobby of restoring vintage wireless units.
First, a sound I know you've heard, but perhaps didn't know the word for.
Heterodyne hɛt(ə)rə(ʊ)DINE/: Electronics of or relating to the production of a lower frequency from the combination of two almost equal high frequencies, as used in radio transmission.
Slowly he began to scan through the frequencies, adjusting the dial minutely, listening, waiting, listening again. Pops and crackles, garbled speech, snatches of music, and between it all the otherworldly heterodyne wails.
Boss: a knob or protrusion of stone or wood. Bosses can often be found in the ceilings of buildings, particularly at the keystones at the intersections of a rib vault. In Gothic architecture, such roof bosses (or ceiling bosses) are often intricately carved with foliage, heraldic devices or other decorations.
The church was cool and empty, its roof timbers with their curved bosses lost in shadow, the air it held within it very still.

I've seen ceiling bosses scores of times, and never thought about the name for them. How about you?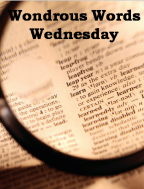 Wondrous Words Wednesday is a weekly meme where you can share new words that you've encountered or spotlight words you love. It's hosted by Kathy at Bermuda Onion. Hop on over and see what wondrous words other bloggers have discovered this week.

P.S. The links are affiliate links so I will receive a small percentage of any purchase you make after clicking through from this blog.

6 Comments to