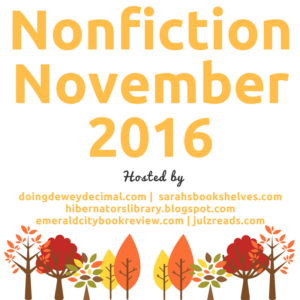 This week's link-up is hosted by Rachel at Hibernator's Library. The prompt for this week's Nonfiction November entry asks what I look for in nonfiction reading.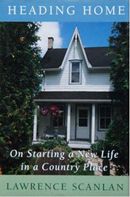 More than anything, I want to learn from NF. I want to investigate ideas or times or places that I'm not familiar with. And I tell myself I'm particularly interested in anything to do with Canada, some things France, history, country living (especially moving to the country), or things bibliophilic. But what I've actually read over the last ten years leans toward food and memoirs. Oops!
I know I'm not big into how-to or self-help or business and I want my nonfiction to be narrative. Occasionally, I'll work hard to take in a topic (and feel better for it) but generally I'd like to skip textbook or reference style NF.
For some reason, although the cover doesn't seem as important to me as it does with the novels I read, the title does. And oddly, sub-titles have huge appeal for me.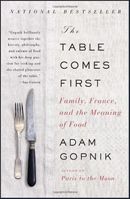 So books like Lawrence Scanlan's Heading Home: On Starting a New Life in a Country Place (Canadian, country, subtitle) or Adam Gopnik's The Table Comes First: Family, France, and the Meaning of Food (France, food, subtitle!) have huge appeal.

For the record, I've read Heading Home more than once and love it, and since I've greatly enjoyed at least two of Gopnik's other NF books (Paris to the Moon and Winter: 5 Windows on the Season) I'm putting The Table Comes First at the top of my TBR list – in fact, I just reserved it at the library.


What about you? What do you look for in your non-fiction reading?

P.S. The links are affiliate links so I will receive a small percentage of any purchase you make after clicking through from this blog

40 Comments to