In our side yard, we have the (remaining of two) biggest poplar(s) that anyone I know has ever seen. It is at least 100 feet high (30 metres) tall. Muriel, who lives next door, is 93 and grew up in the house where we live. She tells us that those trees were big when she was a child. Another family member told us that the fishing boats used to use the trees to guide them into the harbour that is just over the hill.
But poplar trees don't last forever, and over the past 13 years, we lost all of one tree, in pieces, until we finally cut down the dead trunk. Sad to say, but the remaining tree is going to follow soon.

Two years ago, in the aftermath of Hurricane Arthur, a large limb came down, breaking a window on the house and narrowly missing doing more damage.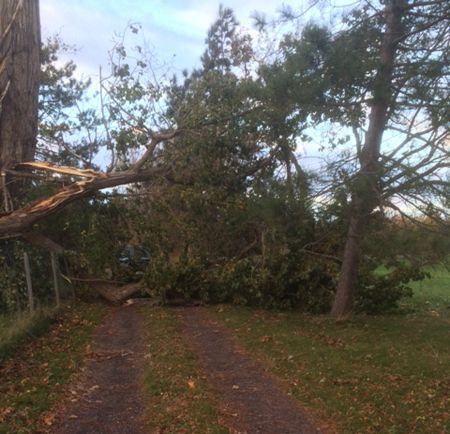 Then, near the end of October another big windstorm took down another large (double) branch of the tree, this time sending it in the opposite direction, across the driveway.

But I think you'll agree that the chances of limbs coming down from that tree in a windstorm are pretty good, so what's this post about?
Sunday morning, we awoke to the tree down on our property and Tuesday evening, I read in His Whole Life by Elizabeth Hay:
Less than an hour later, (the storm) was over. They could see the near trees, the shoreline, the first island, the far shore, and in that moment the biggest tree of all came crashing down less than thirty feet away. . . The shoreline wasn't shoreline anymore, it was fallen tree.

It was a giant hemlock that fell in the book, but I was struck by the description because that's how it was: The driveway wasn't driveway anymore, it was fallen tree.

So what are the chances? Ever have life and your reading collide?

P.S. The links are affiliate links so I will receive a small percentage of any purchase you make after clicking through from this blog.

10 Comments to