In August 2014, we were busy getting ready for the arrival of my husband's daughter Laura and her two young sons who were coming to stay for two weeks, and ended up under our roof for two years.
Nonetheless, books I had reserved at the library over the past couple of months were piling up, so I had my reading cut out for me!
Whirl Away by Russell Wangersky (Fiction, Short Stories, Atlantic Canadian)
From Amazon: "From the caretaker of a prairie amusement park to the lone occupant of a collapsing Newfoundland town, from a travelling sports drink marketer with a pressing need to get off the road to an elevator inspector who finds himself losing his marriage while sensuously burying himself in the tastes and smells of the kitchen, these are people who spin wildly out of control, finding themselves in a new and different world."
Whirl Away was the winner of the 2013 Thomas Head Raddall Atlantic Fiction Award, was shortlisted for the 2013 Scotiabank Giller Prize, and was a finalist for the 2012 BMO Winterset Award.
I highly recommend this collection. 4½ stars

I Murdered My Library by Linda Grant (Nonfiction, Bibliophilic, Kindle Single)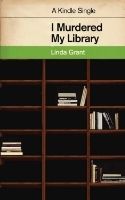 When Grant downsized her living space in 2013, she had to purge thousands of her books from her personal library, started when she was a child.
Amazon says: "Both a memoir of a lifetime of reading and an insight into how interior décor has banished the bookcase, her account of the emotional struggle of her relationship with books asks questions about the way we live today."
The author is an award winning novelist and nonfiction writer, so this is a well-written and fascinating treatise. 4 stars

Charlotte's Web by E.B. White (Fiction, Children's Chapter book)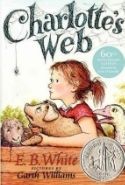 I must have read this as a child but I'm certain that I didn't remember how it ended.
It begins as a charming enough tale, with the saving of Wilbur the pig and the talking animals that welcome Fern, the young girl that saved him, to the barn. But it becomes something else that more mimics life.
This is deservedly a much-loved children's classic. 4 stars

When Things Get Back to Normal by M.T. Dohaney (Nonfiction, Memoir, Canadian)


I mentioned this book in my comments about The Hatbox Letters in June 2014.
Blurb: "One Friday evening, M.T. Dohaney's husband went out to play hockey with his friends. She never saw him alive again. To help herself through this catastrophe, Dohaney recorded a year's worth of pain and anger as well as her gradual and unexpected healing in the journal that became When Things Get Back to Normal."
This was a reread because I wanted to be certain that it was indeed more useful then The Hatbox Letters. It was, very much so. 4 stars

The Care and Management of Lies: a Novel of the Great War by Jacqueline Winspear (Fiction, Historical, WWI)
Two women have been friends since childhood. Now adults, one marries the brother of the other and moves to the family farm. War erupts and Tom enlists, and it falls to Kezia to run the farm, without much help because all the other young men are also enlisting.
Interesting in that regard, but otherwise unmemorable and too easily tied up at the end. 3½ stars

Objects of Our Affection: Uncovering My Family's Past One Chair, Pistol, and Pickle Fork at a Time by Lisa Tracy (Nonfiction, Memoir)


Blurb: "About the history of certain carefully collected heirlooms and why we hold on to the things we keep and how we let go of the ones we lose."

Lisa Tracy found herself, along with her sister Jeanne, responsible for cleaning out her deceased parents' home, jammed full of the belongings they had gathered over a lifetime. I also had to clear out my mother's house, full of her possessions. But there the similarities end.

Tracy's parents collected museum quality antiques with high dollar value, and lovely family stories attached. I, sadly, couldn't relate.

Recommended for someone whose parents are well-to-do and will be leaving a house that someone (maybe them!) will need to clear out.
3 stars


I'm going to post separately for the five mysteries I read.

I was heavy on nonfiction this month. Any thoughts?

P.S. The links are affiliate links so I will receive a small percentage of any purchase you make after clicking through from this blog.

14 Comments to