Is anyone still out there? It's been so long since I've blogged that I wouldn't blame you if you've all taken your ball and gone home.
I'm working on the summaries of the books I've read over the past four months but,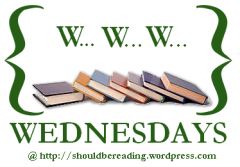 in the meantime, and to break radio silence, here's a fun meme hosted by MizB at Should Be Reading. I came across WWW Wednesday via Words and Peace.


What I'm currently reading:
The Death of Bees by Lisa O'Donnell
My heart is breaking for all of the main characters. It's very hard to put down.
Necessary Lies by Diane Chamberlain
This is women's fiction set in 1960 North Carolina. I saw a decent review of this and needed an "N" title for my A-Z challenge, but I should have known better. Happy endings that involve unrealistic resolutions rub me the wrong way.

What I think I'll read next:
A Far Cry from Kensington
Is something published in 1988 "vintage"? I guess it depends how old you are. Anyway, I expect this book will contain a lot of the protagonist's memories of 1950s Kensington, which I'm sure is old enough to qualify. I'm hoping this is just my cup of tea.
How about you? What are you reading? Leave me a comment and let me know I'm not all alone in the blogosphere.