This link-up is hosted by Books Are My Favourite and Best, and you can find complete details by clicking on the link.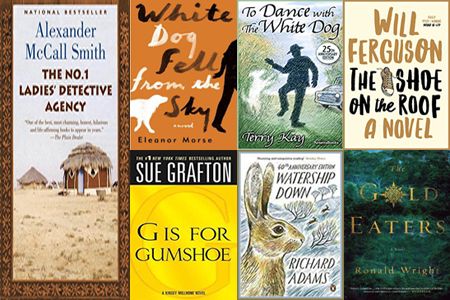 This month, the starting point for everyone's chains is The #1 Ladies' Detective Agency by Alexander McCall Smith. If you haven't read it, you've probably heard of it. In it, Mma Precious Ramotswe begins her own business–the aforesaid agency–and solves a number of small cases. It's set in Botswana in what, I suspect, is a lost time in African society (much like 1950s small-town America) but I love the gentle rhythm of Mma Ramotswe's life.
1. Also set in Botswana, although one not quite so charming, is Eleanor Lincoln Morse's White Dog Fell from the Sky.
In mid-1970s apartheid South Africa, medical student Isaac Muthethe has himself smuggled out of the country into Botswana. He is in danger in his home country because he witnessed the murder of a friend by white members of the South African Defense Force. He is hired as a gardener by a young American woman, Alice Mendelssohn, who has followed her husband to Africa. The white dog of the title is a stray that shows up just when Isaac is dropped off in Botswana, and that attaches itself to the young man.
This book made me aware of the issue of cattle-farm fences across Africa, which cut off wildlife from their families and from water supplies. It also sharpened my understanding of the apartheid situation in South Africa, especially after Isaac is extradited and tortured. This is not Precious Ramotswe's Botswana. This is a powerful and moving book that should have received more attention than it did. A different tone is set in
2. To Dance with the White Dog by Terry Kay.
Sam Peek's children are worried about him since his beloved wife of fifty-seven years died. They're not sure he can live alone on his farm and survive. Sam is determined to stay, though, and continue to care for his pecan trees.
When Sam begins telling his children about a white dog who visits him — but seems invisible to everyone but him — his children think that grief and old age have finally taken their toll.
There's nothing supernatural and no mental illness here–just a bittersweet story of grieving. Desmond Tutu called To Dance with the White Dog "a hauntingly beautiful story about love, family, and relationships". I concur – this one of those free Kindle books that turned out to be a real winner.
3. Another book that I thought was well-done and that I read on my Kindle app was Will Ferguson's The Shoe on the Roof.
The tone of this novel is almost whimsical and it took me a while to figure out the seriousness of the story. I suspect that it was the author's intent to keep the reader slightly off-balance while he established the underpinnings of the plot.
Amazon calls this "the startling, funny, and heartbreaking story of a psychological experiment gone wrong" and says that "The Shoe on the Roof is an explosively imaginative tour de force, a novel that questions our definitions of sanity and madness, while exploring the magical reality that lies just beyond the world of scientific fact."
4. Using the word 'shoe' in the title, I linked to G is for Gumshoe, a Kinsey Millhone mystery by Sue Grafton who died just a few weeks ago, in December 2017.
I know I read this several years ago, and the plot synopsis does ring a bell, but I can't tell you much about it now.
I do remember that I read to 'M' in this series, and took a break because the tone was getting darker and I wasn't enjoying them as much as the earlier adventures. I've never gotten back to Grafton's books, but I do have 'N' through 'Q' on my bookshelves so one never knows.
5. Richard Adams, author of one of my favourite modern classics, Watership Down also died in 2017.
Amazon's synopsis focuses on the band of rebel rabbits that left the warren and had adventures.
I read this in the 1970s and what I remember is the movement within the warren to trust the humans who, in the end, flooded the rabbits' home, killing many. Do I remember correctly? I hope so because
6. Another book with a seemingly benevolent party with evil intent is The Gold Eaters by Ronald Wright.
This epic novel tells the story of the Spaniard Francisco Pizarro's entry into Peru and his subsequent conquering of the Incan Empire. What greed, what a loss of culture, what a waste of human life!
So there you have my links: location, two white dogs, ebooks, the death of authors, and evil intent. Have you read any of these books? What would you have linked differently?
Why not visit Kate's blog and see how she made the final connection to The Heart's Invisible Furies?
P.S. The links are affiliate links so I will receive a small percentage of any purchase you make after clicking through from this blog.