When Say Nice Things About Detroit came up as my random reading pick this month, I thought I'd read a few additional Detroit-set mysteries. Unfortunately, the Loren D. Estlemans came too late in the month to fit in, but I did get to a couple of cozier-type tomes.


THE RED HOUSE MYSTERY
by A.A. Milne (Mystery Fiction, Vintage, 1920s England))
The Red House Mystery is A.A. Milne's only mystery novel; he is better known for his humorous writing, children's stories (including the timeless Winnie the Pooh), and poems.
A 'locked-room whodunit' with an amateur detective, this book followed Agatha Christie's Mysterious Affair at Styles by only two years (and predates her other work). It's elegant and witty, and it's a perfect time capsule of early 1920s English country manor life. AND it has a solid mystery that's fairly clued.
I wish Milne had written 50 more like this. I haven't enjoyed a book so much in a long time – and I read it on my Kindle! 4½ stars
Read this if: you'd like a stylish vintage English murder mystery. 4½ stars

THE DETROIT ELECTRIC SCHEME by D.E. Johnson (Mystery Fiction, Historical, 1910s Detroit, Amateur Sleuth)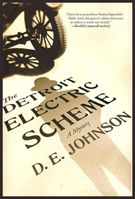 I began more impressed with this first in the series featuring Will Anderson, scion of one of Detroit's leading electric car manufacturers, circa 1910, who by necessity turns detective.
The beginning of the book laid out lots of information about early electric cars and painted a vivid picture of the auto industry of the day.
But once the "mystery" was set up, I was disappointed at every turn. The solution seemed obvious to me and the author's "sleight-of-hand" seemed heavy-handed. Other readers have raved about this series, though, so maybe I just made a lucky guess and the plot isn't as transparent as I thought.
Read this if: you're interested in today's electric cars and would like some information on their evolution; or you're looking for a new mystery series and the setting appeals to you. 3½ stars
HUNTING A DETROIT TIGER by Troy Soos (Mystery Fiction, Historical, Amateur Sleuth, Detroit, Baseball)
This is the fourth installment in the Mickey Rawlings series of baseball novel. Rawlings, an up and coming baseball player living and playing in the early part of the 20th century, turns detective in the name of social justice.

There was lots of not-baseball "stuff" in this mystery: labour unions and politics play large roles. I was interested in the history and the mystery but found that the book went on overlong and the plot became convoluted. I read this when I was quite sick with the flu, though, so I could be biased. Don't let me put you off trying this series if it's something you think you'd like.

Read this if: you enjoy old-time baseball; or you're interested in social politics of the early 20th century. 3½ stars

One Comment to