The month is nearly over and I almost missed it!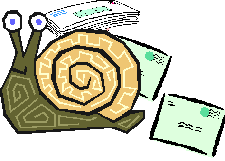 The United States Postal Service has named April to be National Card and Letter-Writing Month. The USPS's goal is to boost written—and mailed—communications to build relationships through cards and letters. "Touch them with a letter they can feel – and keep," they say.
Maya Angelou is widely attributed with saying, "I've learned that people will forget what you said, people will forget what you did, but people will never forget how you made them feel."
How long has it been since you've received a real card or letter in the mail? Snail mail? Probably far too long. But if it's recent enough to recall, perhaps you can remember that it did indeed 'touch you'.
Wouldn't you like to make someone else feel that way? Maya says they'll never forget it.
I've said before: I love mail. While the USPS's goal of increasing snail mail is admittedly self-serving, I endorse it whole-heartedly. Here's what I want to say:
1. Stop right now and think of someone in your life who needs to be appreciated. Send him or her a card or letter today.

Say thank-you, say I love you, say I'm thinking of you, I miss you, get well, happy anniversary, I appreciate you, I'm sorry, welcome to the neighbourhood, have a good trip, good work, it was nice to meet you . . .you get the picture. Just say something and get it in the mail!

2. No matter where you are in the world (I want to take mail-sending international), if you'd like to get some snail mail yourself, just send an email (the irony is not lost on me) to debbie at Exurbanis (dot) com and give me your name and snail mail address. I'd love to send you a note to say 'hi'.

9 Comments to