Weekend Cooking is a weekly meme hosted by Candace over at Beth Fish Reads. Have a food-related posted this week, why not join the fun?
We had a death in our congregation this week. After the memorial Saturday afternoon, we served refreshments, both sweet and savoury. These cheese squares are one of my stand-by items for any get-together.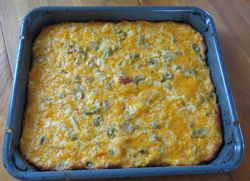 I don't know if the original "Julia" of the official title of these squares was that Julia, but I tend to think of these as Julie's, after my sister who introduced me to them.
(Recipe from Nifty Nibbles
by Cathy Prange and Joan Pauli, authors of Muffin Mania

JULIA'S CHEESE THINGS

1 pkg refrigerator crescent rolls
4 tbsp. butter
3 eggs, beaten
1 cup broken salad olives
1 onion, chopped
4 cups grated sharp cheddar cheese
Dash cayenne pepper or Tabasco sauce

Unwrap crescent rolls and pat into a lightly greased 9×15 pan, smoothing out the seams.

Mix all the remaining ingredients and pour over the dough.

Bake 350◦ for 15-2 minutes, until set.

Cool and cut into squares. May be served warm or cold, but taste best at room temperature.

These freeze well: After cutting in squares, put on cookie sheet to freeze. When frozen, put in freezer bags.

14 Comments to