A few of the shorter challenges I entered in 2012 are unique and are left now to be tied up in this mixed bad entry. Tomorrow I'll post the overall and final reading challenge results for the year.
* * * * * * * * *
I've always liked time travel stories and sometimes fantasize about being able to transport myself back through my life to give my teenage self some advice (would I have even listened?) or visiting with my grandparents when they were young.
So I simply had to sign up for the Time Travel Reading Challenge hosted by Laura at Library of of Clean Reads. I entered at the Surprise Trip level that required me to read 1 -3 time travel books
SUCCESS!
1. 11/22/63 by Stephen King
2. A Dog's Journey by W. Bruce Cameron
* * * * * * * * *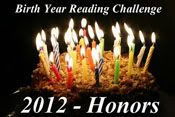 The idea of the The Birth Year Reading Challenge is to discover books that were published the year you were born, or in the birth year of someone special to you.
I really couldn't get excited about anything published in my birth year, so I decided to do an Honors Challenge and read books published in 1973 – the year my beautiful baby girl came into the world. (Love you, Jen!)
SUCCESS!
A Prairie Boy's Winter by William Kurelek
Postern of Fate by Agatha Christie
Julie of the Wolves by Jean Craighead George
* * * * * * * * *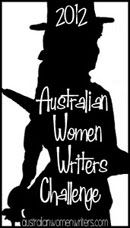 To stretch myself in 2012, I decided to join the Australian Women Writers Reading Challenge, created by Elizabeth at The Devoted Eclectic. I went in 'casual' this year at the 'Stella' level of 3 books and 'dabbled' in more than one genre. I have technical
SUCCESS!
because the challenge was counted in books although I had wanted to count by authors. By that standard, I just plain ran out of time and have to decide whether I'm going to put Transit of Venus in my January reading pile, or return it to the library unread.
1. The Secret River by Kate Grenville
2. Searching for the Secret River by Kate Grenville
3. Bush Studies by Barbara Baynton
* * * * * * * * *
The concept of seeing how my non-fiction reading relates to novels is a fun idea, so I was intrigued by The Truth in Fiction Challenge, hosted by Amanda over at The Fig and Thistle.
The goal of the challenge was to read a specified number of book pairs that were comprised of one fiction book and one related non-fiction book. Amanda encouraged us to think outside of the box; the non-fiction book could also be journals, letters, memoirs, etc…. The pairs didn't need to be exact matches, although there should be an easily detectable common thread.
The catch: Instead of individual reviews, after each book pair I had to write a joint review. And this is where I
FAILED!
this mission.
I had a lot of fun pairing up my books:
The Apprenticeship of Duddy Kravitz by Mordecai Richler with Mordecai: The Life & Times
by Charles Foran

A Small Furry Prayer by Steven Kotler with A Dog's Journey by W. Bruce Cameron

The Story of Stuff by Annie Leonard with 419 by Will Ferguson

Travels with Charley by John Steinbeck with 11/22/63 by Stephen King

BUT the only joint review I posted was about the first pair I read:

1. The Secret River and Searching for the Secret River, both by Kate Grenville

* * * * * * * * *

That's it for the odds and ends. Thanks for hanging in with me.

3 Comments to