As I've said before, one of my favourite mystery series is Martin Walker's Bruno, Chief of Police. The books are set in Dordogne in southern France.
In the latest book that I've read, The Crowded Grave, Bruno is entertaining a visiting Spanish official and introducing him to the foie gras that the region, particularly neighbouring Sarlat, is so justly famous for.
He cut the baguette into five portions and brought out a small pot of onion marmalade he had made the previous autumn.

"Bon appétit, and welcome to the gastronomic heartland of France," he said to Carlos. He took some of the yellow duck fat he had used to preserve the foie and spread it on the baguette before adding a healthy slice of pâté and a small dab of marmalade.
I happened to read this shortly after finishing a charming memoir-of-sorts by "Les Américains" called Beginning French: Lessons from a Stone Farmhouse. In it, Marty Neumeier tells the story of how he and his wife Eileen McKenna, Americans from California, ended up buying a house in Dordogne, in the very same area that the fictional Bruno lives. It was very intriguing to see French country life from the point of view of real-life North Americans.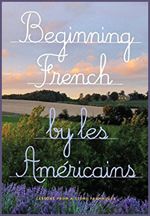 The couple is joined by their daughter Sara who is a chef, which is a happy circumstance considering that they are now in the "gastronomic heartland of France". (see above)
I loved Marty's accounts of the town and village markets, particularly the night markets of which I was not previously aware, and which add to my list of reasons for revisiting southern France. At one of these night markets, the family enjoyed duck burgers with an onion jam.
There are several actual recipes in Beginning French. Many involve using duck breast and other ingredients which are not readily available in rural Nova Scotia, but I was intrigued by the instructions for the onion jam which Sara replicated when she returned to the house.

CONFIT D'OIGNON
Onion Jam
Sara's note: We keep this on hand especially for duck burgers, but it's also good combined with goat cheese in baked stuffed vegetables, or as a condiment with other roast meats or cheese.
6 large red onions, thinly sliced
3 tablespoons vegetable or olive oil
1/3 cup balsamic vinegar
Heat oil in a large, high-sided skillet over medium-low heat. Add onions and cover. Cook, stirring occasionally, until onions are tender and beginning to turn golden, about 15 minutes.
Add balsamic vinegar and continue to cook, uncovered, stirring occasionally until onions are a rich brown, 20-30 minutes. If during cooking onions begin to stick to the pan, add a few tablespoons water (or wine) and stir with a wooden spoon to dislodge any brown bits.
Store, refrigerated, in an airtight container for up to 10 days.
NOTE:
We had no duck burgers or foie gras to try our onion jam out on, but it was delicious on our sausages in a bun.
And I will be sure to have this delightful book with me when I next stay in France. Our rented stone cottage had a full kitchen and I'm sure I'll be able to source the proper ingredients for a genuine French feast.


P.S. The Crowded Grave goes on:
"This is wonderful," the Spaniard mumbled through a mouthful of fresh bread and foie gras. He took a sip of wine, and his eyes widened. "Magnificent. They were made for each other."
The wine that "the Spaniard" is referring to is Monbazillac, a sweet white wine produced in the village of Monbazillac on the left bank of the Dordogne River just across from the town of Bergerac in SW France.
I'm going to be sure to get some of that when I'm there, too.



I'm linking up with Weekend Cooking.

P.S. The links are affiliate links so I will receive a small percentage of any purchase you make after clicking through from this blog.
Also, I received my copy of Beginning French courtesy of NetGalley and the author. This did not affect my review.

14 Comments to