I read a small but enjoyable selection of mystery books this month.
Any of these tickle your fancy?

1. The Impersonator by Mary Miley (Fiction, Roaring Twenties Mystery #1)

Shades of Brat Farrar! In the 1920s Oliver Carr, an uncle to missing heiress Jessie, approaches vaudeville actress Leah Randall with a proposition: impersonate the missing woman, for whom she is a dead ringer, with the aid of his coaching, and split the fortune.
Well thought out and suspenseful.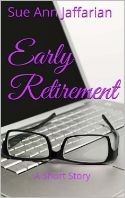 2. An Early Retirement by Sue Ann Jaffarian (Fiction, Mystery, eShort story)

A standalone eshort story by the author of the plus-size Odelia Grey mysteries.
This would have been a ringer to be included in Alfred Hitchcock or Ellery Queen magazines.
3. The Monogram Murders by Sophie Hannah
Is there a mystery reader out there who didn't know about the waves this book made: the first Hercule Poirot novel written by a 'ghost-writer' for the late Agatha Christie? Feelings ran high in anticipation, and reactions were mixed.
I thought Hannah's Poirot was right on the money, but the mystery itself was a little convoluted.
3½ stars
P.S. The links are affiliate links so I will receive a small percentage of any purchase you make after clicking through from this blog.