While I was coming to terms with the long-term tenancy of my step-daughter and two grandsons, I got back to some really good reading this month, discovering a book that has become one of my all-time favourites.


1. The Good Earth by Pearl S. Buck (Fiction, Modern classic, Pulitzer Prize winner)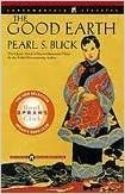 Although Pearl Buck was born in the United States in 1892, her parents moved to China as missionaries when she was just a few months old. She continued to live in China for most of her life before 1934. According to Wikipedia, her novel The Good Earth was the best-selling fiction book in the United States in 1931 and 1932 and won the Pulitzer Prize in 1932.
Amazon says: "This moving, classic story of the honest farmer Wang Lung and his selfless wife O-Lan is must reading for those who would fully appreciate the sweeping changes that have occurred in the lives of the Chinese people during the last century."
In 1938, Buck was awarded the Nobel Prize for literature "for the notable works which pave the way to a human sympathy passing over widely separated racial boundaries and for the studies of human ideals which are a great and living art of portraiture".
Indeed the themes of work, land and riches explored in The Good Earth are universal and timeless.
5 stars

2. The 100—Year-Old Man Who Climbed Out a Window and Disappeared by Jonas Jonasson (Fiction, Contemporary, Satire)

As you might be able to tell from the title, this book, translated from Swedish, is told in a breezy, almost tongue-in-cheek style.
After 'escaping' from a nursing home, Allan Karlsson, much like Forrest Gump, encounters a series of adventures that become more outlandish as the book progresses.
3. Green on Blue by Elliot Ackerman (Fiction, Contemporary, Afghanistan War)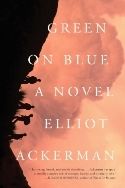 Due to circumstances, young Afghani teen Aziz must join the Special Lashkar, a US-funded militia. As he rises through the ranks, Aziz becomes mired in the dark underpinnings of his country's war, witnessing clashes between rival Afghan groups—what US soldiers call "green on green" attacks—and those on US forces by Afghan soldiers, violence known as "green on blue."
Ackerman brilliantly sets up the hopelessness of living in war, and he has us cheering on the protagonist in his concluding decision.
Well-written, riveting, and hard-hitting.
4½ stars

4. What Alice Forgot by Liane Moriarty (Fiction, Contemporary, Suspense)

Amazon says: "Alice Love is twenty-nine, crazy about her husband, and pregnant with her first child. So imagine Alice's surprise when she comes to on the floor of a gym (a gym! She HATES the gym) and is whisked off to the hospital where she discovers the honeymoon is truly over—she's getting divorced, she has three kids, and she's actually 39 years old. Alice must reconstruct the events of a lost decade."
So here's the thing: I must have enjoyed this at the time since I rated it 4 stars then, but I've forgotten it so thoroughly that I didn't even remember reading it at all.
Hmmm . . . Guess I forgot what Alice forgot. I wish it had been more memorable.
3½ stars

5. Nickel and Dimed: On (Not) Getting by in America by Barbara Ehrenreich (Non-fiction, Social Issues)
Ehrenreich posed as a waitress in order to discover how the working poor in America cope financially. I expected to find an examination of the cost of living, but instead found the flip-side: the difficulty of making a living, earning an income.
As with any such journalism of this type, it's hard to truly capture the desperation of not having the luxury of back-up, knowing that, at any time, you can return to another life, job, and bank account. Ehrenreich does acknowledge these limitations.
6. The Brandons by Angela Thirkell (Fiction, Vintage, Comedy)

Originally published in 1939, The Brandons gives us a glimpse into the life of "Lavinia Brandon, quite the loveliest widow in Barsetshire, blessed with beauty and grace, as well as two handsome grown-up children, Delia and Francis."
Somewhat typical Thirkell although perhaps even slower moving than most. About two-thirds of the way through my copy, I found a duplicate of the previous 40 pages (and 40 pages missing). I picked up the story easily even without knowing what happened in the missing section.
3½ stars


*   *   *   *   *

Once again, I'm including the two mysteries I read this month in this post.

1. Miss Dimple Disappears by Mignon Ballard (Fiction, Mystery, Cozy)
Set in small-town Georgia USA in 1942, this first in the Miss Dimple Kirkpatrick series sees the steady-as-a-rock first grade teacher kidnapped.
I remember being a little disappointed in this, but I can't recall anything else about it. Many readers, though, highly praise the details of the setting.
3½ stars

2. Everybody Goes to Jimmy's by Michael Mayo (Fiction)
This second in the Jimmy Quinn series (I mistakenly thought it was the first) is billed as a suspense novel but, with its circa 1930 Manhattan speakeasy setting, it seemed more a mild sort of hard-boiled mystery to me.

I did enjoy it though and do plan to read more of the series at some time.
3½ stars

This was the start of a run of several months of good reading. Do any of these appeal to you?


P.S. The links are affiliate links so I will receive a small percentage of any purchase you make after clicking through from this blog.

4 Comments to