My husband & I spent the first two weeks of October 2014 in southern France (ending with 4 days in Paris), celebrating our 25th wedding anniversary. It was a very special trip because we hadn't traveled often or far before that, and it was perfect. Oddly enough, even though we had 'rest' days, I didn't get much reading in.


1. The Tucci Table by Stanley Tucci (Nonfiction, Cookbook)

I love Stanley Tucci! Whether he's a hypersensitive tango dancer in Shall We Dance?, the husband of a beloved cooking icon in Julie and Julia, the mischievous Puck in A Mid-Summer Night's Dream, or any one of the scores of other roles he's had, I think he's brilliant.
So I was bound to love his new cookbook, written with his wife Felicity Blunt (sister of actress Emily Blunt). And I did!
Tucci combines his love of classic French food (which I was enjoying for the first time that month) with the bounty of food available in North America (especially in larger cities) to present a fresh take on the food that has enchanted generations of eaters.
4 stars

2. Dr.Fischer of Geneva or the Bomb Party by Graham Green (Fiction, Vintage, Satire)

A darkly comic novel about a misanthropic millionaire who decides to hold the last of his famous parties, first published in 1980.
At first, nothing seems to happen. Our narrator arrives as an invited guest to find other diners already at the table. There is a strange current in the air, eventually traced to the strange gifts Dr. Fischer has distributed to his guests.
Clever, as you might expect of Greene.
4 stars

3. Gilead by Marilynne Robinson (Fiction, Literary)
"In Gilead, Iowa, our narrator, John Ames, age 76, a retiring preacher, is writing a letter to his almost seven-year-old son, the blessing of his second marriage. It is a summing-up, an apologia, a consideration of his life. The reason for the letter is Ames's failing health. He wants to leave an account of himself for this son who will never really know him. Robinson takes the story away from being simply the reminiscences of one man and moves it into the realm of a meditation on fathers and children, particularly sons, on faith, and on the imperfectability of man."
Although this is wildly popular, I found it so-so. Perhaps my age—or study of the Bible—has me in a place in life where Ames' wonderings seemed self-conscious and/or prosaic.
3½ stars

4. 10:04 by Ben Lerner (Fiction, Contemporary)
To give this books its due, I will note that it was named "One of the Best Books of the Year" by:
The New Yorker, The New York Times Book Review, The Wall Street Journal, The Village Voice, The Boston Globe, NPR, Vanity Fair, The Guardian (London), The L Magazine, The Times Literary Supplement (London), The Globe and Mail (Toronto), The Huffington Post, Gawker, Flavorwire, San Francisco Chronicle, The Kansas City Star, and The Jewish Daily Forward.
It was also the winner of The Paris Review's 2012 Terry Southern Prize and a finalist for the 2014 Folio Prize and the NYPL Young Lions Fiction Award.
It's another that I found only 'meh". Again, I think perhaps I'm too old.
3½ stars

5. Julia, Child by Kyo Maclear, illustrated by Julie Morstad (Fiction, children's picture book)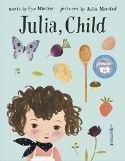 Maclear imagines Julia Child and her co-author of Mastering the Art of French Cooking as children. They observe that adults have forgotten joy and are a grey and dreary bunch. Julia & Simone concoct delightful food that teaches the adults to be better people.
My goodness, I'm getting crotchety in my old age. I don't think that children should be celebrated, to themselves at any rate, for teaching adults. This book seems to be saying "kids know better."
Sorry, I don't think they do.
3 stars
*   *   *   *   *

I'm including the only mystery I read this month in this post.

6. Death in High Heels by Christianna Brand (Fiction, Mystery, Vintage)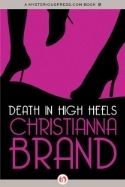 Christianna Brand, who died in 1988, wrote mysteries that were published between 1940 and the early 1980s. Her work thus overlapped with Christie and Marsh and she is considered by some to be their peer.

Death in High Heels (1941) was her first Inspector Charlesworth mystery and one of her earliest works, and it was my introduction to her writing. I had the feeling that Brand hadn't quite crystallized her characters yet and, as a result, the book felt a little unanchored to me.

I was glad, however, to finally 'meet' Brand.
3½ stars


All in all, France was wonderful; the reading, a little less so. Have you read any of these?

P.S. The links are affiliate links so I will receive a small percentage of any purchase you make after clicking through from this blog.

10 Comments to