September 2014 was a busy month. On the 5th, Bill's daughter arrived with her sons: six years old, and two months. Having a new baby in the house was a different experience for us and while we were getting used to that, we were at the same time making final arrangements for our 25th anniversary trip to southern France. My reading totals for this month and next are fairly low.

Sweetland by Michael Crummey (Fiction, Literary, Atlantic Canadian)

Moses Sweetland, "one crazy coot", lives on a remote island off the coast of Newfoundland in a community that has been served for decades by a Government-funded supply boat. Now the government wants to cut the boat run so they've offered generous packages for the islanders to resettle on the mainland. The catch is, all the residents must agree to the scheme, and Moses doesn't want to go.
Faced with mounting pressure from the government and the community, he signs the deal and then fakes his own death so that he can be left behind on the island.
Crummey is a poet first and that is evident in his prose. But his story is every bit as good as his form. I highly recommend Sweetland. 5 stars

The Lobster Kings by Alexi Zentner (Fiction, Atlantic Canadian)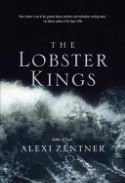 From Amazon: "The Kings family has lived on Loosewood Island, Nova Scotia for three hundred years, blessed with the bounty of the sea. But for the Kings, this blessing comes with a curse: the loss of every first-born son. Now, Woody Kings, the leader of the island's lobster fishing community and the family patriarch, teeters on the throne, and Cordelia, the oldest of Woody's three daughters, stands to inherit the crown. To do so, however, she must defend her island against meth dealers from the mainland, while navigating sibling rivalry and the vulnerable nature of her own heart when she falls in love with her sternman. Inspired by Shakespeare's King Lear, The Lobster Kings is the story of Cordelia's struggle to maintain her island's way of life in the face of danger from offshore, and the rich, looming, mythical legacy of her family's namesake."
This was excellent Atlantic Canadian literary fiction until it gave way into thriller mode at its climax. 4 stars

The Inn at Lake Devine by Elinor Lipman (Fiction, Rom-Com)

Amazon: "It's 1962 and all across America barriers are collapsing. But when Natalie Marx's mother inquires about summer accommodations in Vermont, she gets the following reply: 'The Inn at Lake Devine is a family-owned resort, which has been in continuous operation since 1922. Our guests who feel most comfortable here, and return year after year, are Gentiles'
For twelve-year-old Natalie, who has a stubborn sense of justice, the words are not a rebuff but an infuriating, irresistible challenge."
My first Lipman. It's very 'pretty' but a little too predictable. 3½ stars
*   *   *   *   *

Since there are so few books in total this month, I'm including the mysteries I read in this post.

Paw and Order by Spencer Quinn (Fiction, Mystery, Animal-Narrated)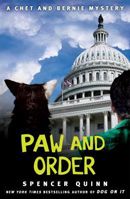 #7 in the Chet Bernie detective series
Bernie goes to Washington D.C. to visit his love, Susie Sanchez who has snagged a reporter's position at the Washington Post. The boys get involved in political intrigue due to their association with Susie who is following a controversial story.
Most of you probably know that I love the voice of Chet, the canine half of this detective duo, and I appreciate the solid mysteries that our boys investigate. 4 stars

A Dog at Sea by J.F. Englert (Fiction, Mystery, Animal-narrated)


#3 in Bull Moose Dog Run series featuring chocolate Lab Randolph and his master Harry
Randolph and Harry book on a pet lovers' cruise following clues that they hope will lead to the whereabouts of the long-lost Imogen, Randolph's mistress and Harry's beloved girlfriend.
Although Randolph is far from pessimistic, the ache for Imogen dampens his natural doggy enthusiasm, as exemplified by Chet in Paw and Order. He's very likable though ("overweight, overly-intelligent") and this also has a first-rate mystery. 4 stars

The Dog Did It by Jim Toombs (Fiction, Mystery)
Gabe Chance has just inherited his mother's estate – but with one catch: he must keep her Jack Russell Terrier and live in her house in Brandt in the Texas Hill Country, even though he wants nothing more than to return to California.

I didn't care for Gabe at first and was prepared to not like this first in the series. But both Gabe and Tigger the dog grew on me, and I enjoyed the sinister murder mystery. I have the next installment loaded on my Kindle. 3½ stars



There's not much there, but Sweetland made the month worthwhile. Anything else catch your eye?

P.S. The links are affiliate links so I will receive a small percentage of any purchase you make after clicking through from this blog.

Save

10 Comments to