In August 2014, a number of the mystery books that I had reserved to read in June, in my "get to know France" foray, finally came into the library for me.
A Tail of Vengeance by Spencer Quinn (Fiction, Mystery, eShort)


I can't remember a lot about this entry in the Chet & Bernie series, and that's a little unusual for me with these books.
So even though I seemed to have enjoyed it (I rated it 4 stars when I read it), it's perhaps not quite up to the usual sparkling standards for this series.
The Vintage Caper by Peter Mayle (Fiction, Mystery)


Peter Mayle, author of the perennially popular A Year in Provence also penned a less well-known four book mystery series featuring former lawyer and wine connoisseur Sam Levitt.
In Los Angeles, wine collector Danny Roth engages Sam after he is the victim of a wine heist. Sam follows leads to Bordeaux and Provence.
The France and wine details themselves made this worth the read, but there is also a decent mystery. 4 stars

Death in Truffle Woods by Pierre Magnan (Fiction, Mystery, Translated)
This is the first book in the Commissaire Laviolette series, first published in French in 1973 but only recently translated into English.
This first adventure brings the Commissaire to 1960s rural Provence to investigate the disappearance of five people, within a climate of centuries-old superstition and secret and animosity, and gets him involved in the local politics and disputes. 3½ stars
The Messengers of Death by Pierre Magnan (Fiction, Mystery, Translated)


Commissaire Laviolette is lured out of retirement to help investigate the bayonet murder of an avaricious spinster. As Amazon says "the theme of this is as old as Cain and Abel".
The characters in this seemed alive and the mystery is decent. This second entry in the series surpasses the series debut A Death in the Truffle Wood.
Murder on the Eiffel Tower by Claude Izner (Fiction, Mystery, Translated)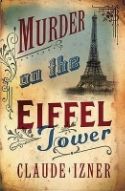 This first in a series had the promising premise of an amateur sleuth in the person of 1889 Parisian bookseller Victor Legris. Legris investigates the deaths of several people, all apparently of bee stings, in connection with the newly opened Eiffel Tower.

The historical facts are carefully researched and there are wonderful details of the literary world of the time, but the whole thing was just a little flat.

Izner is the pseudonym of two sisters who are second hand booksellers in Paris. 3½ stars

I was especially pleased to read the translated books. Do you know any other translated mysteries set in France?

P.S. The links are affiliate links so I will receive a small percentage of any purchase you make after clicking through from this blog.

7 Comments to