Back at home in Nova Scotia, I eagerly anticipated the annual Read by the Sea Literary Festival in nearby River John in mid-July. I enjoyed readings by, and panel discussions with, Russell Wangersky, Steven Galloway, Frank MacDonald, Guy Vanderhaeghe, Sharon Butala and Sylvia McDonald. You'll find books by some of them in my reading over the next couple of months.

The Glass Harmonica by Russell Wangersky (Literary fiction, Atlantic Canadian)
Set in St. John's Newfoundland where the author lives and works as editor and columnist for The Telegram, The Glass Harmonica is the story of a neighbourhood. In the present, a man witnesses his neighbour shot and killed by a pizza delivery person, but the back story is woven in pieces by various neighbours, back and forth over the course of 40 years. Wangersky has been called a craftsman storyteller. I concur.
This book won 2010 BMO Winterset Award for the outstanding literary work in any genre by a Newfoundlander or Labradorian.
Read this if: you've ever walked down your street and wondered what goes on behind closed doors
4½ stars

A Possible Madness by Frank MacDonald (Literary Fiction, Atlantic Canadian)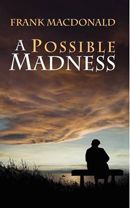 Frank MacDonald is one of Cape Breton's most celebrated writers.
A Possible Madness is set in the fictional mining town of Shean in Cape Breton which has seen its fortunes fall as the coal has been used up. Now a global corporation plans to build a seawall offshore and exploit the remaining coal. It'll mean jobs but will the town agree to let it happen?
Read this if: you'd like to gain insight into the economics and everyday life of residents of a closed mining town, or you like literary fiction with a surprise twist. 4 stars

The Englishman's Boy by Guy Vanderhaeghe (Literary Fiction, Canadian)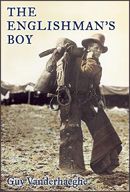 Amazon: "It's a story within a story–a shimmering romance about the myth of movie-making in Hollywood in the 1920s and an account of a real-life massacre of First Nations people in Montana in the 1870s. Linking these two very different stories is Shorty McAdoo, an aging cowboy, who as a young man acted as a guide for the American and Canadian trappers who perpetrated the massacre, and who is now going to be the subject of a no-holds-barred blockbuster set to rival D.W. Griffith's epic Birth of a Nation." (My note: The massacre actually took place in Saskatchewan but was spearheaded by American wolf-hunters from Montana.)
Winner of the 1996 Governor General's Award for Fiction (beating out Margaret Atwood's Alias Grace), this is the first in a loose trilogy, although each book stands alone. Brilliant writing.
The Bear by Claire Cameron (Literary Fiction, Canadian)

(True story:) In October of 1991, a pair of campers was attacked & killed by a black bear in Algonquin National Park, in northern Ontario, Canada. Author Claire Cameron was a counsellor at a summer camp at Algonquin that year. "The Bear [the novel] is based on my memories of and research into this bear attack. I added the kids."
The Bear (the novel) is told through the eyes and voice of five year old Anna, one of those kids. She and her two year old brother Stick are the survivors of an attack that kills their parents.
With her dying words, her mother tells Anna to leave the island in a canoe, and thus begins the children's sojourn alone through the vast wilderness that is Algonquin. The tension as the children suffer through each tribulation (hunger, thirst, mosquitos, shelter, and so on) rises steadily. I couldn't put this down.
Read this if: you want to know if the children survived; or you think you ever want to go wilderness camping.
4 stars

A Traveller's History of France by Robert Cole (Nonfiction, History)

I struggled through this for the sake of our planned trip to France, starting in June and not finishing it until nearly the end of July.
It's dense and reads like a textbook: empires and republics ad nauseam. A great Paris-centric overview if you're studying the history of France but for someone interested in traveling to France for a three week visit and who wants to understand the regions of France and their attitudes, it was not so useful.
3 stars

The Qualities of Wood by Mary Vensel White (Fiction)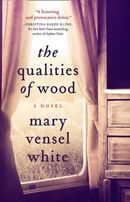 I read this on my Kindle over a period of three months; it just took that long to get through.
There is some beautiful writing but, even though there's a hint of a murder mystery, the story doesn't go anywhere. I kept reading because I thought something must be going to happen, but I was disappointed. Nothing did. 3 stars
*   *   *   *   *

My lone mystery this month was
The Circular Staircase by Mary Roberts Rinehart (Fiction, Mystery, Vintage)
Mary Roberts Rinehart was considered the American Agatha Christie and for many years reigned as queen of the American mystery genre. The Circular Staircase was her second published book (1908) and featured the second, and last, outing of the tart-tongued middle-aged Miss Cornelia Van Gorder. Miss Van Gorder has invited her niece and nephew to accompany her to a country house for a relaxing summer. But instead of rural quiet they found murder and hijinks.

Roberts Rinehart wrote with humour and a great sense of place and time, but I found it just a little too madcap.
3½ stars

I read great Canadian fiction this month! Does anything look interesting to you?

P.S. The links are affiliate links so I will receive a small percentage of any purchase you make after clicking through from this blog.

Save

10 Comments to