In June 2014, I was on the homestretch of what I could do with my mom's things in Ontario, and I was starting to think ahead to our planned trip to France in late September-early October.

I thought I would read to learn a few things about it, and to set the mood.

Paris to the Moon by Adam Gopnik (Non-fiction, Travel)


In 1995, Adam Gopnik, a writer for the New Yorker magazine, along with his wife and infant son moved from NYC to Paris.
This book is a collection of his award-winning "Paris Journals" that he filed for the magazine. But unlike other books that are an assemblage of essays, this book is not choppy or undisciplined. It's an intelligent, heartfelt look at the most beautiful city in the world at the turn of the twenty-first century. (Gopnik was there for Y2K but returned to America shortly thereafter.)
Some critics have complained that Gopnik's essays are outdated, but I think they transcend time. He has captured the very heart of Paris culture and attitude. It's well worth reading whether you're planning to visit Paris or not.
The President's Hat by Antoine Laurain (Fiction, Translated)
What could be more French than a book that was popular with the reading public there and concerns the hat of the President of France?
Amazon describes this as a "charming fable". It's set in the 1980s when Francois Mitterrand was President. After dining in a restaurant one night, Mitterrand forgets his hat. The hat then starts on a journey that changes the lives of everyone who wears it.
This is a light book, easily read in an afternoon and is, indeed, charming. 4½ stars

The Perfect Meal: In Search of the Lost Tastes of France by John Baxter (Non-fiction, Food)

John Baxter is an Australian who has lived in Paris for more than twenty years and gives literary walking tours through the city. The result of those tours is contained in The Most Beautiful Walk in the World.
In The Perfect Meal which Amazon calls "part grand tour of France, part history of French cuisine" he takes "readers on a journey to discover and savor some of the world's great cultural achievements before they disappear completely."
Thus he tracks down and eats bouillabaisse, foie gras and truffles and many other delights. I learned the right way to eat a croissant (it's "not eaten dry—it is dipped in coffee"), what fleur de sel is ("dust-fine 'flower of the salt' skimmed from the topmost layer of the pans where seawater is evaporated") and when to drink café crème ("one never drinks café crème after midday any more than we eat cornflakes") among a host of fascinating tidbits. (He also mentions how "sweet, cold white wine such as Monbazillac . . . marr[ies] so perfectly with goose liver".)
This is a wonderful treat for foodies, Francophiles, and readers of mysteries set in various parts of the French countryside. 4 stars

A Year in Provence by Peter Mayle (Non-fiction, Memoir)

First published in 1989, this account of Englishman Mayle's life in the countryside of Provence is a modern classic.
Mayle's writing is warm and witty, and I'm sure has made thousands fall in love with the idea of buying an old stone farmhouse in France.
The Hatbox Letters by Beth Powning (Fiction, Atlantic Canadian)
Because Powning is "almost local" I read this when it was first published in 2004. I was disappointed on that first reading, expecting the letters of the title (letters her grandparents wrote to each other in the nineteenth century) to play a bigger part.
But the book is really about grieving. Kate Harding, 52, is facing her second winter since the untimely death of her husband.
A personal friend of mine, not much older than Kate, facing the same situation mentioned that this book really hit home with her so this reread was to pick up what I had missed the first time around. This was the only "non-France" book I read this month, but it was important to me to try to understand.
But even knowing the real theme of the book, I was not particularly touched by Kate's emotions. Of course, each situation is unique, and I have not gone through losing a spouse but even so, I found Joan Didion's The Year of Magical Thinking or M.T. Dohaney's When Things Get Back to Normal both more adept at capturing and relaying a widow's sorrow to me. 3½ stars

Ooh La La: French Women's Secrets to Feeling Beautiful Every Day by Jamie Cat Callan (Non-fiction, Beauty)
Callan spent time in France interviewing and visiting French women in their milieu to try to crack the code to their famous French sensuality.
She presents a list of findings, each with its own chapter. From the mundane (always carry your handbag on your wrist) to the obvious (wear pretty underthings) to the very French (discover your perfume and wear a signature scent), it was all interesting.
Although it wasn't a life-changer, I really enjoyed this little book which was a quick and easy read. 3½ stars

Paris I Love You but You're Bringing Me Down by Rosecrans Baldwin (Non-fiction, Travel)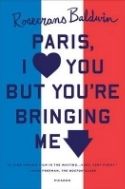 In the mid-aughts of this century, Rosecrans Baldwin and his wife moved to Paris when he as offered a job at a Parisian ad agency―even though he had no experience in advertising, and even though he hardly spoke French. In this book, he draws a picture of their 18 months living in the French capital.
The Baldwins ran into some of the same problems that the Gopniks did (bureaucracy, endless paperwork) but met them with much less grace. In fact, the entire book, articulate as it is, seemed to me to be one big complaint that things in Paris aren't done the same way they are in the good ol' USA. (But isn't that why he was there?)
I learned a few things I didn't know before, but spent most of the time reading this exasperated at Baldwin's attitude. 3½ stars

* * * * *

Unfortunately, stuck between libraries as I was out-of-province, I had a hard time sourcing mysteries set in France. (Four that I placed holds on show up in my August reading.) Thus, there were only two and I'm including them in this post.
A Man in Uniform by Kate Taylor (Creative Non-fiction, Historical, Mystery, Canadian author)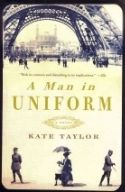 Some of you may be familiar with the infamous Dreyfus affair but before this month in 2014, I would have sworn I had never heard of it. Of course, since then, I've seen countless casual references to it so it was probably around me all the time.
Wikipedia says: "The Dreyfus affair (French: l'affaire Dreyfus) was a political scandal that divided France from 1894 until its resolution in 1906. The affair is often seen as a modern and universal symbol of injustice, and remains one of the most striking examples of a complex miscarriage of justice, where a major role was played by the press and public opinion." I might add that it seems a prime case of anti-Semitism as well.
The mystery in the event is: if Dreyfus didn't do it, who did? Kate Taylor has written a fictional account of the affair, although from what I've learned since, it seems to paint a very accurate picture of the situation. It was a very enjoyable way to take in history! 4 stars

The Alchemy of Murder by Carol McCleary (Fiction, Mystery, Historical)

This is the first in McCleary's series featuring the real-life reporter Nellie Bly, who was famous in the early part of 20th century for her expose of conditions in Bellevue Asylum for the Insane in NYC, and for her round-the-world trip, a la Jules Verne, made in 72 days.

I wanted very much to like this series since seeing the one woman play by a local author Gary Blackwood "Two Hours in a Madhouse". But there is just too much fiction, too much suspension of belief asked (that Nellie would be involved in a murder investigation in Paris, okay; but that she would meet and have a relationship with Jules Verne was the breaking point for me).

You might enjoy the mystery in this but don't count on it to learn anything about the real Nellie Bly.

3 stars


I think I did manage to get a bit of flavour of France from this reading. Does anything interest you?

P.S. The links are affiliate links so I will receive a small percentage of any purchase you make after clicking through from this blog.

20 Comments to